Former Chilean president Allende remains buried for third time in private ceremony
Monday, September 12th 2011 - 20:06 UTC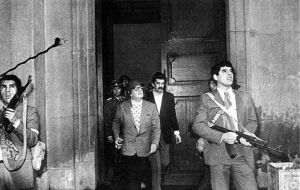 The Salvador Allende Foundation that the remains of former President Salvador Allende were re-interred last Thursday after being exhumed in May for forensic analysis.
"The Allende family along with the Salvador Allende Foundation would like to reiterate their appreciation of all those who hoped to join us from all parts of the country," read an update posted on the Foundation's website. "But due to events which have taken place recently, a private act was deemed to be best".
A victim of the September 11, 1973 military coup, the late president's remains were first buried with virtually no ceremony in an unmarked grave in Viña del Mar, the day after the putsch took place.
A second funeral was ordered in 1990 by former President Patricio Aylwin (1990-1994), shortly after the end of General Augusto Pinochet's 17-year dictatorship. The ceremony was significantly more formal, as it was intended as the state funeral which Allende had not been given at the time of his death.
The third burial had originally been scheduled to take place on September 4 – in commemoration of the date Allende had been elected in 1970 and also the day his remains were transferred from Viña el Mar to Santiago's General Cemetery in 1990. But on the eve of the event, the foundation announced the ceremony's postponement, out of respect for victims of the air accident which took place on September 2nd.
The Foundation had already confirmed in August that the new burial would be a much more intimate affair than the 1990 state funeral. But in light of the aforementioned accident, as well as the death of former Sen. Gabriel Valdes, it was decided that the ceremony would take place completely in private, as opposed to the original plan which would have allowed access to accredited journalists.
The late leader's family has in fact refused to refer to it as a ceremony at all, according to Senator, and surviving daughter, Isabel Allende.
"To us this not a funeral" said Allende to the BBC on Friday. "But it does close a very important cycle, in which we reached a legal certainty on the cause of and circumstance surrounding my father's death".
Thursday's service took place after judge Mario Carroza ordered Allende's remains exhumed for analysis in May, in order to determine whether or not the besieged president took his own life or was killed by soldiers loyal to Gen. Pinochet.
Allende's suicide was publicly confirmed by the Chilean Legal Medical Service (SML) on Tuesday, July 19.
Prior to the burial, Allende's remains had been resting at the SML facility, located in Santiago's Independencia borough.
By Ivan Ebergenyi - The Santiago Times