Falkland Islands: 2016 for oil says Rockhopper but Islanders cautious
Sunday, September 18th 2011 - 12:26 UTC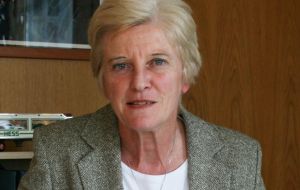 Rockhopper Exploration's announcement this week that they expect to begin pumping oil in 2016, set the international media off on a further round of speculation about future wealth, but Falklands stakeholders and interested parties are taking a more cautious approach.
The company said production from the Sea Lion discovery made in 2010 will be ramped up to around 120,000 barrels of oil per day by 2018, however, Director of Mineral Resources Phyl Rendell told Penguin News "Rockhopper Exploration are working up their conceptual plans for development of the Sea Lion field because they need to establish what the costs might be to produce hydrocarbons from the field. Then they can ascertain if these funds can be raised to develop it."
There was a need to share the information with investors because they need to know when they might start to get a return on any funds they commit to the project, hence a production date of 2016 is being quoted, said Mrs Rendell.
"Obviously a production phase offers opportunities for local companies and unlike exploration, there would be continuity of work so that investment in infrastructure can be considered," she said.
An Oil & Gas Development Group, a sub-group of the Economic Development Strategy working group, is currently considering what policies and guidelines should be adopted to enable local companies to secure contracts for both exploration and production phases. Training and certification for employees is one area which has already been identified as a need to meet industry standards.
A development phase would have an impact on the Falkland Islands Government (FIG) including the Department of Mineral Resources, explained Mrs Rendell.
There will need to be more regulations to manage offshore activities during production and the department will need to manage the assessment of development plans that are required to be submitted by oil companies for approval. This is an open process, similar to that for EIAs, (Environmental Impact Assessment) when the public will be able to comment on the plans.
Mrs Rendell said revenue to FIG would not come from a production phase, apart from acreage rents, until oil is produced and royalties paid.
However, exploration activities already create considerable benefits to the economy with companies buying services (tax on workers, FIPASS berthing fees, water, electricity etc) and paying tax on business generated by the oil industry.
"It is hard to say at this stage what level of funds would be received from production. These details are yet to be submitted to FIG as part of a development plan," Mrs Rendell said. Rockhopper Exploration made the announcement at a Capital Markets Presentation on Wednesday where it was noted that development costs to first oil production was expected to be in the region of $2 billion.
The company expected to complete its concept engineering studies in the first quarter of 2012 and shortly after to begin its Front-End Engineering Design (FEED).
The FEED is expected to be completed and submitted to the Falkland Islands Government in the first quarter of 2013, by which time Rockhopper would expect to have awarded the contracts to the Floating Production Storage and Offloading (FPSO) provider and subsea contractor.
Accounting for all outstanding payments for the previous well drilled, Rockhopper estimates that it will have cash resources of $170 million. The company is therefore said to be fully funded to complete the current well, and the remaining two committed drilling slots that it has with the Ocean Guardian.
Rockhopper is considering its position as to whether it will take up any additional options on the Ocean Guardian (PN)