Bolivia former anti-drugs chief sentenced in Miami to 14 years for trafficking
Friday, September 23rd 2011 - 21:23 UTC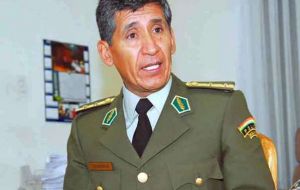 A US federal judge in Miami on Friday sentenced the Bolivian former anti-drugs chief to 14 years prison on drug trafficking charges, court sources said. General Rene Sanabria, who was President Evo Morales's top anti-drug official 2007-2008, was arrested in Panama last February and extradited to Miami to face the charges.
US District Judge Ursula Ungaro also sentenced Sanabria's accomplice, Marcelo Foronda, to nine years prison for his role in the narcotics trafficking scheme.
Witnesses said that Sanabria cried and asked Ungaro to decrease his time in prison after she read the sentence in court. Sanabria's lawyers said the general would appeal the sentence.
Judge Ungaro was particularly severe in her sentencing arguing Sanabria had affronted and offended his country's relation with the US.
"As far as I know Bolivia is considered an ally by the US, and the US trusts its allies to help it protect its interests. Mr Sanabria did not promote those objectives and facilitated the dispatch of narcotics. I can't think of no other way he could have worse affronted the interests of the US with his actions", said the Judge.
According to trial testimony by the US Drug Enforcement Agency (DEA), in 2010 Foronda made contact with undercover US agents posing as Colombian drug traffickers who offered to distribute Bolivian cocaine in Florida.
Sanabria, who at the time headed a special police anti-drug unit, agreed to make sure the shipment was protected. In September 144 kilos of cocaine was shipped to the port of Miami hidden in a container with zinc that was shipped through the Chilean port of Arica.
Bolivia remains the world's third largest producer of coca -- the source plant of cocaine -- after Peru and Colombia.