UN concern with Argentina's "discriminatory attitudes" towards migrant workers and children
Friday, September 23rd 2011 - 21:09 UTC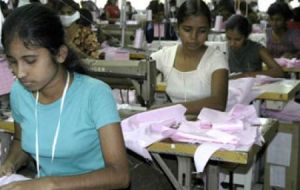 The United Nations Committee on migrant workers expressed concern at Argentina's "discriminatory attitudes" against citizens from African countries, particularly Senegal and neighbouring countries Bolivia and Paraguay.
The Committee regretted "statements in the (Argentine) media which associate migrant workers with crime and the abuse of social security benefits, xenophobic statements from politicians and discriminatory actions towards migrant children in schools".
Having confirmed the situation, the Committee recommends the Argentine government adopts "energetic measures to eliminate discriminatory stereotypes" against this collective through the strict application of legislation and making law enforcement officers, politicians and journalists more sensitive to the issue.
Likewise the Committee requests Argentina to watch so that teachers "respect the dignity and cultural identity" of the migrant children.
The UN committee, which depends from the UN Human Rights Council in Geneva, concluded on Friday two weeks of sessions during which it assessed the degree of respect for migrant workers rights in different countries among which Argentina, which has ratified an international convention on the subject.
Furthermore the Committee suggested Argentina should increase the number of labour inspections, fines and other sanctions to employers that exploit migrant workers or submit them to different forms of forced labour and other abuses, mainly in what refers to the informal economy.
Likewise the Committee recommends the need "to control employment contracting practices in textiles, agriculture and with (households) domestic workers" so that migrant workers can enjoy the same conditions as nationals.
One of the ways to address the issue, suggests the UN human rights council, is promoting the access of migrant workers to the formal sector, and regularizing those who are working in irregular conditions.
Special protection is requested for domestic workers, whom must be guaranteed access to filing complaints mechanisms against their employers in case their rights are abused.
Other recommendations include to consider the possibility of extending the universal child allowance to the children of the migrant workers in irregular situation, and to study the possibility of extending the non-contribution social benefits in cases of "extreme social vulnerability".