US jobs and GDP stats still poor, but not as bad as previously estimated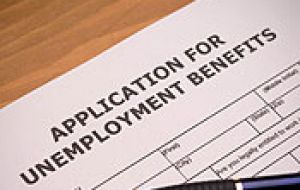 US new unemployment benefit claims fell to a five-month low last week, while the economy grew slightly more than previously reported in the second quarter, according to data from the Labour Department.
Initial claims for state unemployment benefits fell 37.000 to a seasonally adjusted 391.000, the Labour Department said on Thursday.
The Commerce Department said in its third and final estimate that US GDP grew at annual rate of 1.3% in the second quarter, up from the previously estimated 1.0%. That reflected consumer spending and export growth that was stronger than earlier estimated.
Political haggling in Washington over budget policy and a deepening debt crisis in Europe has eroded confidence leaving the US economy on the brink of a new recession.
Faced with a weak recovery, the Federal Reserve last week announced a new measure designed to push long-term borrowing costs lower by shifting assets on its balance sheet.
In speech on Wednesday, Fed Chairman Ben Bernanke said the U.S. central bank might need to ease monetary policy further if inflation or inflation expectations fell significantly.
The revision to GDP took growth back to the Obama administration's original estimate of 1.3%. The economy expanded at a 0.4% rate in the first three months of the year.
While the expenditure side of the economy showed severe weakness in the first half, economic activity as measured by income fared a little better. GDP domestic income rose at a 1.3% rate in the second quarter after increasing 2.4% in the first quarter.
Another report from the Labour Department showed the US economy likely created 192,000 more jobs in the year through March than previously estimated.
The GDP report also showed after-tax corporate profits rising at a 4.3% in the second quarter, the largest increase in a year, instead of 4.1%.
Consumer spending growth was revised up to a 0.7% rate from 0.4%. The increase in spending, which accounts for more than two-thirds of US economic activity, was still the smallest since the fourth quarter of 2009.
Export growth was stronger than previously estimated, rising at a 3.6% instead of 3.1%. Imports increased at a 1.4% rate rather than 1.9%, which left a smaller trade deficit.