Chilean Army invests 15.8m dollars in upgrading US made Howitzers
Wednesday, October 5th 2011 - 08:44 UTC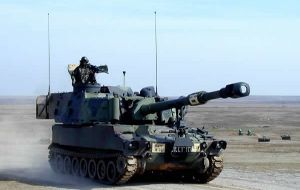 A Chilean plan for modernizing and upgrading its defense forces is under way with one of the first major contracts going to BAE Systems for the supply and refurbishment of 12 U.S.-made M109A5 howitzers. The 15.8 million dollars contract has been implemented for the Chilean Government through a US foreign military sales contract.
"The howitzers will provide the Chilean Army artillery units with a significant capability increase to deliver precise and effective artillery support to the Chilean Army," said Joe McCarthy, vice president and general manager of Combat Vehicles at BAE Systems.
"The M109 family of vehicles has a rich history of providing high performance and reliability. It is a combat-proven system that has played a vital role in providing fire support during various military operations with both the US Army and its allies."
The M109A5 Self-Propelled Howitzer provides an affordable increase in fire power, as a new production vehicle or an upgrade to earlier configurations of the M109 howitzer. The howitzers' M284 cannon and M182 mount extend the firing range by 25% more than previous versions of the M109 howitzers.
Under this contract, the US Government will provide the howitzers to the Chilean Government and BAE Systems will perform the refurbishment and upgrade work. Refurbishment of the vehicles includes replacing obsolete equipment and restoring the vehicle to a "like new" condition. The company will also incorporate digital data connectivity and gun positioning and navigation systems to provide faster emplacement time, swifter response time to calls for fire and improved survivability.
"The work on this contract not only supports the Chilean Army's modernization program, but it also strengthens the cooperative relationship between the United States and Chilean Armed Forces. We look forward to providing continued support to Chile's Armed Forces in the future," said McCarthy.
In addition to the recent M109A5 contract, BAE Systems assisted Chile with a program to refurbish the M113 Armoured Personnel Carrier from 2003 to 2005.
Work on this M109A5 contract will be performed by the existing workforce at BAE Systems facilities in York and Fayette, Pennsylvania and Aiken, South Carolina. The work will begin in August 2011 and is anticipated to be complete in October 2012.