Fed's 10-member split in three on stimulus measures, reveal minutes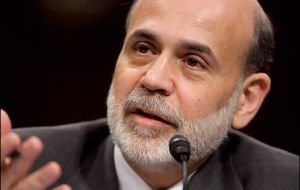 Three members of the Federal Reserve's Open Market Committee (FOMC) voted against the Fed's latest stimulus measures at its meeting last month, minutes have revealed.

After the meeting, the Fed announced a 400bn bond program designed to keep interest rates low. But three members argued for no additional stimulus. Two other unnamed members said the fragile state of the economy could justify stronger action.

They went along with the Fed's so-called Operation Twist programme as it did not rule out further action at a later date. Under the program, the Fed said it would sell about 400bn of short-term bonds and buy longer-term debt. Buying bonds pushes the price up and lowers the interest rate, or yield.
The Fed hopes the move will help to keep long-term interest rates low, thereby boosting mortgage lending and loans to businesses. Unlike quantitative easing, the policy does not inject any new money into the economy.

"Most members agreed that the revisions to the economic outlook warranted some additional monetary policy accommodation to support a stronger recovery" the minutes said.

"Two members said that current conditions and the outlook could justify stronger policy action... Three members concluded that additional accommodation was not appropriate at this time."
The three members voting against the action were Richard Fisher, Narayana Kocherlakota and Charles Plosser. There are 10 members of the FOMC.

The Fed also gave a somewhat gloomy outlook for the US economy.

"Members generally continued to expect some pickup in the pace of the economic recovery over coming quarters but anticipated that the unemployment rate would decline only gradually and agreed that there were significant downside risks to the economic outlook," the notes point out.