Spanish corporation will construct 70ml bio-ethanol plant in Uruguay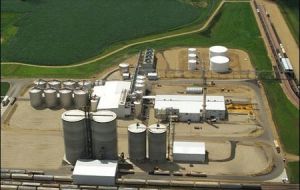 Spain's Abengoa has announced that it will construct a bio-ethanol plant in the department of Paysandu, Uruguay, for Alcoholes de Uruguay, or ALUR. The contract, which includes the construction of an adjoining power cogeneration plant, is worth 120 million dollars.
The bio-ethanol plant will have an annual production capacity of 70 Ml of ethanol and 50,000 tons of DDGS (dried distillers' grain), a by-product used for manufacturing animal feed.
The plant will use sorghum, maize, barley and wheat as raw materials, which will be processed using dry milling and batch fermentation. A cogeneration station will be constructed next to the plant, with an installed capacity of 8 MW, which will use biomass to produce the electricity and heat (steam) required by the bio-ethanol plant.
Abengoa will be responsible for constructing the facilities, which will take approximately 22 months. Both companies will subsequently form a joint venture to operate and maintain the plant. ALUR will be responsible for selling the end products and for the supply of the raw materials.