Argentina/Brazil clash over restrictions to footwear imports
Thursday, October 20th 2011 - 21:41 UTC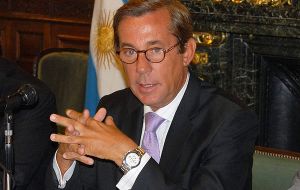 Argentine and Brazilian footwear manufacturers clashed this week over restrictions to trade, mainly through the delay in approving import licences but agreed to keep talking next month in Rio do Janeiro.
The Argentine industry wants the annual quota of imported shoes from Brazil cut from 15 million to 12 million pairs annually.
Leaders from the two countries footwear industry met in Sao Paulo and Rio de Janeiro and complained about restrictions that Argentina is placing on the importation of their products, telling local media it has cost the sector 100 million dollars so far this year.
Abicalçados, the industry group that represents Brazilian footwear manufacturers, said that around 4.5 million pairs of shoes are stuck in warehouses because Argentina has been delaying the approval of the non automatic import licences.
The industry group complained about the restrictions on the same day as Argentine Trade and International Economic Relations Secretary Luis María Kreckler led a seminar in Sao Paulo about regional integration that included 120 Argentine executives who aim to increase their presence in Argentina's main trade partner.
"The cooperation between Argentina and Brazil is strategic and we must emphasize the integration of each country's value chains," Kreckler said.
The secretary added that Argentina's "GDP doubled over the last eight years and its foreign trade quadrupled," noting that "this is the road we want to continue going on in order to achieve growth without exclusion".
For his part Argentina's Footwear Industry Chamber (CIC) President Alberto Sellaro noted that "this (trade) mission marked the political will of both countries to prioritize bilateral relations above and beyond the international situation ... and that certainty is essential for the business world."
But in spite of the enthusiasm Abicalçados insisted that millions of pairs of shoes "are stuck in warehouses because factories can't get the necessary licences to export the merchandise to Argentina."
"An import permit that should take 60 days to process can take as many as 200 days," Abicalçados told the newspaper Folha de Sao Paulo.
The Brazilian Industry accuses the Argentine government of putting the brakes on imports from its neighbour to "favour Argentine companies and gain support in Sunday's presidential election."
Sellaro strongly denied the charges, saying that "the Industry Ministry meets the stipulated time periods" established by the World Trade Organization that sets 60 days as the maximum for non-automatic licences.
Sellaro met with Milton Cardoso, head of Abicalçados with the goal of decreasing the annual quota for imported shoes from Brazil to 12 million pairs from the current 15 million pairs.