Brazil preparing strict imports' controls to safeguard domestic industry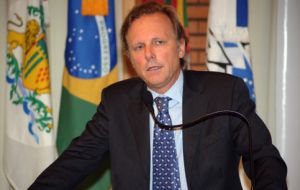 Brazil is preparing to implement more strict controls on imports from Asia, particularly China arguing that Beijing will try to take advantage of the positive performance of South America to compensate for the fall of sales in the European Union and the US currently under the burden of the Euro and debt crises.
"We are working on the expectations of an increase in Chinese exports to Brazil and we need to have efficient weapons and that is why we are preparing our safeguards for the avalanche", said Felipe Hees, head of the Commercial Department at the Ministry of Development, Industry and Foreign Trade.
Brazilian industrial groups complain that even when Brazil has a trade surplus with China, 70% of what is exported by Brazil to the Asian giant are commodities and in the same proportion Chinese manufactured goods access the Brazilian market.
In the first nine months of this year China was Brazil's main trade partner with a turnover of 33 billion dollars, almost double second placed US.
Given this scenario the Brazilian Foreign Trade ministry reviewed to make them more expedient, the antidumping procedures and contracted an additional 120 staff to address 'disloyal trade' situations and when imports have a significant impact on domestic production.
China expanded 9.1% in the first quarter of the year, the lowest in the last two years, and analysts are anticipating that in 2012 growth could further contract to 8%, which could trigger an extra overseas sales boost.
"If we have to face an imports tsunami we're not prepared: trade legislation is slow and not well structured to current circumstances" said Thomas Zanotto head of international affairs for the powerful Sao Paulo Industrial Federation, FIESP.
Zanotto warned that China has started, gradually to export steel that it does not use to other emerging countries such as Brazil.
"It's not xenophobia; we only want to safeguard our market given the disloyal trade practices from China. We must combat dumping and subsidies", insisted the Brazilian Textile and Clothing industry.