Brazilian Sports minister again on the limelight in spite of presidential support
Monday, October 24th 2011 - 06:38 UTC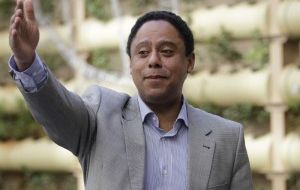 Brazilian media reported more corruption allegations against the country's embattled Sports Minister on Saturday, raising the pressure on him to quit a day after he received the backing of President Dilma Rousseff.
Accusations that Orlando Silva took up to 40 million Reais (23 million dollars) in kickbacks to benefit himself and his Communist Party have embarrassed the government and risk complicating Brazil's already-troubled preparations for the 2014 soccer World Cup and the 2016 Olympics.
The Estado de Sao Paulo newspaper said on Saturday it had seen documents showing that Silva's wife received public money from a nongovernmental organization controlled by members of Silva's Communist Party. It said the documents showed that the NGO had contracted a firm owned by Silva's wife and paid her 43.500 Reais for research work.
Another newspaper, Folha de Sao Paulo, reported an evangelical pastor as saying he had been pressured by Sports ministry officials to pay a kickback of 10% to the Communist Party on a public project to provide sports for needy children. The pastor, David Castro, said the project had been halted because he refused to pay the bribe.
Previous allegations against Silva have mostly come from a disgruntled contractor arrested last year in an investigation into allegedly illegal fund-raising by the Communist Party.
Silva, who has been Sports minister since 2006 and is the government's point-man for coordinating investments and infrastructure upgrades for the mega sporting events, has vigorously proclaimed his innocence.
Silva met with Rousseff on Friday for more than an hour to defend himself from the allegations. Rousseff said in a statement that her government would not condemn anyone without proof.
If Rousseff were to withdraw her support, Silva would become the fifth minister to step down this year. Four of those ministers have left over allegations of wrongdoing as the new president takes a tough line against corruption and a shortage of funds fuels rivalries within her unruly coalition.
Silva's departure could further complicate Brazil's preparations to host the world's biggest sports events at a time when the construction of stadiums and transport infrastructure for the World Cup in particular is facing criticism for slow progress and ballooning costs.
The resignations do not appear to have harmed Rousseff, however -- she bounced to a 71 percent approval rating in a September opinion poll, apparently gaining support from middle-class voters for her perceived tougher stance against Brazil's endemic political corruption