The Argentine economy is "a time-bomb ticking" warns economist
Tuesday, October 25th 2011 - 20:45 UTC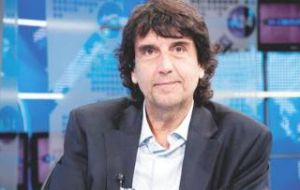 A 'time bomb ticking' is how economist Carlos Melconian described the current economic situation in Argentina in spite of all the production and consumption 'records'. Melconian argues that Argentina is travelling through an 'anaesthetic path' which overshadows reality.
"I have been asked to explain what is happening in Argentina but it's not easy because we have record sales of cars, record votes and record of capital flight, so really instead of me an economist, maybe you should have contracted a psychologist" said Melconian to an audience of business leaders and analysts in Montevideo.
"Argentina is sailing along an anaesthetic path of commodities' high prices which overshadows reality", said Melconian arguing that the growing value of Argentine exports in recent years can only be explained because of higher prices since agriculture production is Argentina is stagnant and productivity has "not improved".
Without the need of significant investments or improved production methods, Argentine farmers can "sit and drink mate" because the trade surplus is safe, said the economist who estimated Argentina will end 2011 with a positive balance of ten billion dollars.
However, a Damocles spade hangs from an ever thinning thread: capital flight is soaring and has reached 'dramatic levels' according to official statistics from the Central bank.
In the last four years "73 billion dollars, openly declared in the framework of the legal system, have left the country for overseas", points out Melconian.
"The government of former president Fernando De la Rúa blew up when 19 billion dollars flew out of the country and here we are with 51 sustained months of capital flight, four times more and so far nothing has happened. This is because the 98 billion dollars of agro-exports have been sufficient to sustain such a drain", insists Melconian.

This huge agri-business revenue has also fuelled an "ever expansive monetary" policy which together with the peoples' 'mistrust' in the local currency has seen the demand for US dollars (contrary to the rest of the world) grow sustainedly.
But consumers and rational Argentines are not only after the US dollar but also after cars, "because Argentina is the only country in the world where once the car leaves the dealer it increases in value" says Melconian.
Unfortunately according to the visiting economist, these extraordinary resources registered by Argentina are 'literally lost'.
"A historian could easily write about the lost opportunity of Argentina; the resources came in one door and left by the other", underlines Melconian who argues that the massive subsidies handed out by the administration of President Cristina Fernandez are the main problem faced by the Argentine economy and also challenge its future evolution.
"Behind government efforts to keep public utilities rates down and hand out social benefits is inflation, (direct consequence of the monetary expansion policy) and the growing fiscal deficit" said Melconian.
During the government of president Nestor Kirchner (2003/2007) revenue was equivalent to 28% of GDP and outlays, 23%, which meant no problems. But with Cristina (2007/2011) revenue stands at 27% of GDP and expenditure 33%.
The solution is a progressive liquation of subsidies, freezing government support, for example for public transport, which would then loose influence in real terms because of the natural increase in domestic prices.
However Melconian is not enthusiastic about the future in so far that he does not see a re-elected Cristina Fernandez on the path of making the economy fundamentals more transparent.
"On the contrary, there are few chances of Cristina moderating policies. I rather see more government, more state advance and less market".
Finally Melconian said the government knows it must stop the flight of capital and he wouldn't be surprised if the new government of CFK decides to apply controls in the foreign exchange market.
Melconian estimated that capital flight must be cut down to a third to keep the current macro stability in Argentina.
*Economist Carlos Melconian is one of the partners of M&S consultants and held several government jobs in the Central bank and Ministry of Economy before starting the consultancy in 1991. M&S is regarded as one of the leading financial and economic consultants specializing in Mercosur.