Argentina floods the market with dollars to control money speculation
Wednesday, October 26th 2011 - 15:26 UTC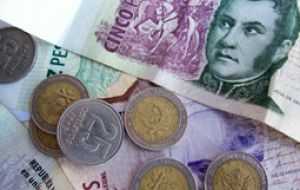 The Argentine Central Bank (BCRA) issued a special decree so that all export revenues generated by both mining and energy sectors remain in Argentina to be negotiated at the local foreign exchange market.
The measure was ratified by the government through Decree 1722 published Wednesday in the Official Gazette, and aims to flood the local markets with fresh dollars in an attempt to control both late US currency high demand, and growing inflation.
The decree establishes that "all foreign currency revenues obtained from exports made by mining and oil and gas companies must be negotiated within the local foreign exchange market."
Likewise, the decree explains that the measure seeks to achieve an equal treatment for all industries within the country. Thus, mining and energy companies will receive same treatment as the agricultural sector in terms of being force to leave all export revenues within the country.
The mining and oil sectors had benefited so far by Decree 753/2004 from the time of President Nestor Kirchner.
Sources have estimated the measure will represent a boost of between 3 and 4 billion dollars.
In the first nine months of 2011 Argentina exported crude for the value of 1.48 billion dollars and 732 million dollars in natural gas and other hydrocarbons, according to the latest official foreign trade release.
In the few weeks leading to Sunday's election Argentine private holders bought an estimated 3 billion dollars and the Central Bank has been supplying the market with sufficient greenbacks to avoid major disruptions to the local foreign exchange market.
According to BCRA president Mercedes Marcó del Pont who this week met with Argentine and foreign bankers, the bank will supply all the needed dollars to ensure there is no major volatility in the market.
She also anticipated that the current 'uncertainty' situation which led to the purchase of several billon dollars by companies and individuals "will tend to normalize in two/three weeks when people realize there are no surprises ahead".
The Argentine government is concerned with the flight of capital which some economic analysts estimate in at least 73 billion dollars in the last four years, including 20 billion so far this year.
The massive outflow has been compensated by an extraordinary 98 billion dollars in agriculture exports during that period and an abundant trade surplus, according to Carlos Melconian an Argentine economic consultant, who nevertheless warns of the medium term effects of such a situation.
The growing value of Argentine exports in recent years can only be explained because "of higher prices since agriculture production is Argentina is stagnant and productivity has not improved", according to Melconian.