CFK opens huge mausoleum on first anniversary of her late husband death
Thursday, October 27th 2011 - 23:13 UTC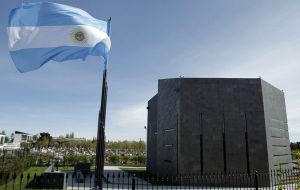 President Cristina Fernández de Kirchner, CFK, attended Thursday a small private ceremony at the Río Gallegos cemetery (Santa Cruz province) and paid tribute to her late husband and former president, Néstor Carlos Kirchner, on the first anniversary of his death.
Likewise, the Head of State in company of her two children Florencia and Máximo, inaugurated the monumental mausoleum built at the local cemetery where the remains of the former president will be transferred.
Relatives and friends of the family were present at the ceremony along with some government officials. In mid afternoon it was opened to the public but can only be visited by ten people at a time.
The mausoleum, built by the businessman, Lázaro Báez, a personal friend of the late former president, is 11 metres high, and took eight months of intensive work.
The Patagonian province is providing 350 police officers to maintain order among the persons queuing to visit Kirchner's final resting place.
Alos, in the Santa Cruz café where the former president drank his last coffee, a commemorative plaque will be placed on the table and seat where he sat before his death.
Cristina Fernández arrived Wednesday to Río Gallegos along with cabinet chief Anibal Fernández; Intelligent Service head, Héctor Icazuriaga; Presidential Secretary Oscar Parrilli; Legal and Technical Secretary, Carlos Zannini; and Communications Secretary Jaun Manuel Abal Medina. In Rio Gallegos was waiting Social Development minister Alicia Kirchner, the former president's sister.
Kirchner died at the age of 60 in the Patagonia city of El Calafate where he was spending a few days resting next to his wife, President Cristina Fernandez. The first anniversary takes place four days after Cristina Fernandez landslide victory in Sunday's election with 53.9% of the ballots.
Likewise rallies hit Buenos Aires City and other provinces and towns of Argentina.
At 9 am Priest Luis Farinello blessed the 2.4-meter statue of the former Head of State that was placed in front of the Congress in Buenos Aires. In the afternoon the monument was taken to the Plaza de Mayo by a group of Patagonian miners, where they were joined by the Mothers of Plaza de Mayo.
The head of the Mothers of Plaza de Mayo, Hebe de Bonafini, set up a radio studio at the very same square with the intention to establish a dialogue with the late leader as she assured that "Néstor has just moved to another planet."
Kirchnerite groups set candles and marched throughout Buenos Aires ending at the Plaza de Mayo and in the evening the organized Labour Confederation boss, Hugo Moyano, headed a tribute rally at the CGT headquarters.
In Corrientes province, members of the local Justicialista Party threw one thousand flowers to the Paraná River in the memory of Kirchner. In Salta Governor Juan Manuel Urtubey renamed a rural school in the North-western province after the late president.