Argentina imposes stricter foreign exchange rules to contain capital flight
Friday, October 28th 2011 - 20:45 UTC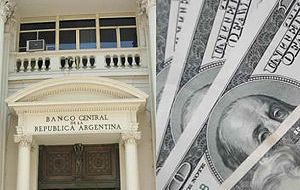 Argentina imposed strict rules for operations in US dollars with the purpose to greater control over the foreign exchange market, moderating alterations in daily operations and above all to stop the haemorrhage of greenbacks estimated at 3 billion dollars a month.
A first rule establishes a mechanism of sworn statements for operations over 250.000 dollars in a calendar year and with no specific purposes.
Besides making a formal statement of personal assets the buyer must explain the origin of the Pesos to acquire dollars.
According to the Central bank the target is "to restrict operations with funds originated in the informal market which attempt to elude foreign exchange rulings".
This is a step further from the compatibility of foreign exchange purchases with personal assets statement since from now on it must be proved that the buyer has funds specifically marked for the purchase of dollars.
The measure targets "greater transparency and the genuine origin of the foreign exchange operations and to limit operations related to the informal market which use cash to triangle the purchase of bonds and dollars" and are then taken out of the country.
The second rule demands that when purchases from local companies, capital injections or acquisitions of real estate by non residents, the access of the funds must be registered in the local foreign exchange market at the moment of the investment.
The rule also contemplates that in the event or repatriation of funds overseas without the conformity of the Central Bank, those funds must have been registered at the moment of their access to the local market for the initial investment.
The Central bank explained that as of now a non resident company that buys an Argentine company and later decides to sell the assets to a resident so it can remit the funds overseas without the bank's intervention, it must give evidence that the original funds were registered at the moment of accessing the Argentine foreign exchange market for the investment.
If this is not the case the non resident corporation will have to request specific authorization from the Central bank.
The new requirements are not retroactive and to not apply to the remittance overseas of earnings born out of local investments by foreign corporations, according to the Central bank.
Argentina is estimated to have experienced a capital flight of 20 billion dollars so far this year and 73 billion in the last five years, which were compensated by a surplus trade balance with a major contribution from the 98 billion dollars in agriculture exports in that period.