Argentina' tax office will validate buyers of foreign exchange as of Monday
Saturday, October 29th 2011 - 03:46 UTC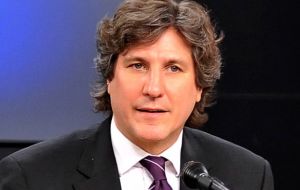 Argentina's tax revenue office (AFIP) will validate from Monday onwards the people or enterprises that purchase currencies at the foreign exchange markets in order to control if they have the funds to do it and end with the irregular transactions, Economy Minister Amado Boudou announced Friday.
"We've detected hundreds of Tax and Employment Identification Numbers (CUIT/CUIL) whose incomes do not coincide with the amount of dollars they purchase. That's why, from Monday on, the buyer of foreign currencies will be automatically audited by the AFIP, who will validate the purchase," Boudou told the press at the Economy Ministry.
"This does not modify the amount, it only controls that the company or the person has enough funds to purchase the currency. What we are trying to do is to channel all the transactions in the formal market," he continued.
The maximum purchase amount will not be modified – will remain in 2 million dollars – but there will be a strict control over the transactions that reach this top.
Capital flight has forced the Argentine central bank to sell billions of dollars on the currency market since August to stem the Peso's losses which have been bolstered by capital flight leading to last Sunday's election.
Earlier in the day Central Bank Vice-president Miguel Pesce argued that the new controls put in place on dollars was directed at "avoiding abuse in the market."
The Central Bank vice-head also made it clear retail buyers who are able to justify their income "won't have a problem" buying dollars.
"The controls have been put in place to avoid abuses. Some irregular transactions were detected and what the Central Bank has now done is prevent further cases," sustained Pesce.
During a radio interview today, Pesce guaranteed that retail buyers "who can justify their income, will not have anything to worry about; they will not endure difficulties when buying dollars. We are just asking for more information, that's all".