Fitch downgrades Argentine oil companies following Central bank dollar move
Saturday, October 29th 2011 - 03:35 UTC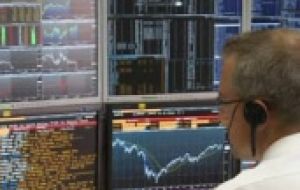 Fitch Ratings has downgraded Argentine oil companies YPF and Pan American Energy foreign (PAE) currency Issuer Default Rating (IDR) to 'B+' from 'BB-' and has affirmed their local currency IDR at 'BB'.
The announcement came after the Argentine Central Bank has ordered oil, gas and mining companies to cash in all their export revenue on the local foreign-exchange market on Wednesday, moving strongly to protect dwindling central bank reserves as capital flight surges.
"YPF and PAE foreign currency rating downgrade reflect a greater degree of exposure to transfer and convertibility risk as a result of the recent change in regulation that obliges oil and gas producers to reimburse and liquidate 100% of export revenues," said Fitch in a statement.
"This change in regulation highlights an increased intervention of the government in the oil and gas sector and the potential for foreign currency controls," stated the rating agency.
YPF is controlled by Repsol YPF which is rated 'BBB+' by Fitch. PAE is currently 40% owned by Bridas Corporation (Bridas) which is in the process of acquiring BP's (rated 'A' by Fitch) remaining 60% stake in the company.
Bridas is 50% owned by Bridas Energy Holdings Ltd (BEH) and 50% by China National Offshore Oil Corporation Limited (CNOOC, rated 'A' by Fitch).