Former guerrilla elected Bogotá mayor says reconciliation and peace are possible
Monday, October 31st 2011 - 05:55 UTC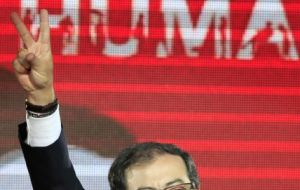 Colombians elected one-time guerrilla Gustavo Petro as Bogotá mayor, the country's second most powerful post after the presidency, in a poll on Sunday devoid of the bloodshed that marked campaigning.
Petro, 51, an anti-corruption champion and rebel in the defunct M-19 movement, won 32% of the vote with 84% of voting stations reporting. His main opponent Enrique Peñalosa, the favoured candidate of former President Alvaro Uribe, polled 25% and conceded.
Petro, who sought the presidency against Juan Manuel Santos, last year, will take office in January. He said his win showed that reconciliation was possible in violence-plagued Colombia.
"Bogotá has chosen as its mayor a son of the peace process of 1989," Petro said in his acceptance speech. "Bogotá is saying yes to reconciliation, yes to peace."
Petro's election was a setback for Uribe, who left office with a 75% approval rating 14 months ago and since then has been wielding political influence from behind the scenes.
The peaceful voting for local offices nationwide came as a relief after a violent campaign in which 41 of the more than 100,000 candidates were killed. Leftist guerrillas and drug-funded crime gangs have been suspected of the violence, trying to ensure the election of their favourites and control over millions of dollars in oil royalties directed to cities.
The mayor-elect is often cited as an example that Colombia's half century insurgency could end peacefully. The former guerrilla was given amnesty after serving two years in jail for his involvement in the M-19 group.
"Petro downed his weapons and now he is mayor of the most powerful city. It's a very powerful message for the armed left in Colombia. They can be part of the opposition," said Elisabeth Ungar, director of the anti-corruption watchdog Transparency International in Bogotá.
Petro, an economist, takes over a city in crisis. The last elected mayor, Samuel Moreno, was removed from office and jailed in September on accusations of graft.