Major oil company sale collapses after Argentina impones forex controls
Monday, November 7th 2011 - 05:54 UTC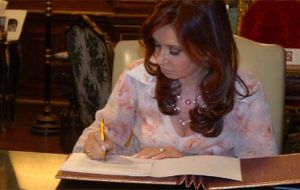 China's Cnooc Ltd.'s deal to buy BP Plc's 7.1 billion dollars stake in Argentine crude producer Pan American Energy LLC collapsed, ten days after Argentina's president ordered oil companies to repatriate export revenue.
BP will repay a 3.5 billion dollars deposit it had received for the sale by Nov. 14, the company said after Bridas Corp., equally owned by Cnooc and the billionaire Bulgheroni family, announced Nov. 5 that the deal was cancelled for "legal reasons".
Bridas owns 40% in Pan American and the purchase of the remaining 60% was pending Argentine antitrust approval.
The decision comes less than two weeks after Argentina's President Cristina Fernandez, re-elected on Oct. 23, ordered energy and mining companies to repatriate future export revenue in a bid to slow accelerating capital flight from South America's second-biggest economy.
The move by Fernandez, who nationalized the 24 billion dollars pension fund industry and has moved to block foreigners from purchasing rural land since taking office in 2007, was a sign that she will likely "increase intervention and pressures on the private sector" heading into her second term, said Daniel Kerner, a Latin America analyst at the Eurasia Group.
"Bridas has informed BP of its decision to cancel the sale" Buenos Aires-based Bridas said in an e-mailed statement. "The decision is motivated by legal issues, the manner in which BP behaved during the transaction and its signing."
Pan American was downgraded by both Moody Investors Service and Fitch Ratings last month after the government's decision to increase control of export revenue. Fitch lowered its rating to B+ from BB-, citing "increased intervention" by Argentina.
Bridas said in its statement that neither Cristina Fernandez's announcement nor the economic crisis in Europe had anything to do with the decision. BP said separately that the sale, initially due to be completed by June 30, "had been delayed because the Argentine antitrust and Chinese regulatory approvals required."
BP sought to sell Pan American as part of its pledge to divest as much as 45 billion dollars of fields after the Gulf of Mexico spill last year to shore up its balance sheet. The company has sold more than 19 billion in assets, excluding Pan American, since June 2010 and had about 18 billion in cash at the end of the third quarter.
BP Chief Executive Officer Bob Dudley said last week that the stake is "not an asset we're desperate to sell."
Cnooc said in a statement that the decision by Bridas "will not have any material adverse effect on the existing business or financial position of the group".