Falklands's MLAs in St Kitts to discuss self-determination and economic issues
Wednesday, November 9th 2011 - 07:21 UTC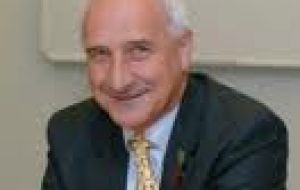 Falkland Islands Legislative Assembly members Mike Summers and Roger Edwards are visiting St. Kitts and Nevis in then Caribbean this week to attend Commonwealth Games Federation meetings and hold talks with government ministers.
Discussions with ministers are expected to cover their experiences in managing the economy of the Falklands, and the challenges that they face when dealing with the United Nations. St. Kitts and Nevis are outspoken supporters of the right of all peoples to self-determination, having achieved their own independence in 1983.
The current Falklands' population can trace its roots back to the first British settlers on the Islands, having arrived through the natural wave of emigration that took place during the mid-1800s.
There had been no indigenous people on the Islands when the Falklanders ancestors arrived, and they are the only people to have successfully settled there.
The Falklanders' relationship with the United Kingdom is now one based on partnership and shared values and the links with the mother-country are maintained by the Islanders' own wishes, a very different situation than that found in St. Kitts prior to its own independence.
The Falkland Islands Government has responsibility for all matters concerning the Islands, with the exception of defence and foreign affairs and are fully self-financing in all the areas they control.
The St Kitts and Nevis federation is a federal two-island nation in the West Indies. It is the smallest sovereign state in the Americas, in both area and population. Population (2005) was 51.300 and area: 261 square kilometers.
St. Kitts and Nevis achieved independence in 1983. In August 1998, a vote in Nevis on a referendum to separate from St. Kitts fell short of the two-thirds majority needed. In late September 1998, Hurricane George caused approximately 458 million dollars in damages and property and limited GDP growth for the year and beyond. Georges was the worst hurricane to hit the region in the century.
The country is a member of the Commonwealth with Queen Elizabeth II as its head of state, represented in St. Kitts and Nevis by a Governor-General, who acts on the advice of the Prime Minister and the Cabinet. The prime minister is the leader of the majority party of the House, and the cabinet conducts affairs of state.
Tourism is the dominant industry followed by agriculture and light manufacturing; GDP in 2009 was 557 million dollars.