Puyehue volcanic ashes are back forcing delays in Buenos Aires and links to Chile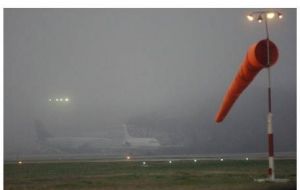 Buenos Aires City two main air terminals, Ezeiza and Aeroparque faced on Thursday disruptions and flight complications because of the presence of the ash cloud from the Chilean Puyehue volcano, affecting particularly Patagonia to the south of Argentina and links with Santiago de Chile.
The disruptions to schedules, after two weeks of calm, were affecting various flights toward the south of Argentina. One service to Neuquén was cancelled, others suffered delays and Lan Argentina reported that six flights between Buenos Aires and Santiago had been delayed waiting for improved air conditions. Likewise with a flight from Los Angeles with a previous stop in the Peruvian capital, Lima.
Aerolineas Argentinas and Austral also had flights delayed or cancelled but all of them to the south of Argentina in places such as Bariloche which during the peak of the Puyehue volcano ashes last June had to remain closed for a hundred days and only resumed activities September 17.
However towards mid afternoon Thursday conditions begun to improve and flights were reprogrammed trying to recover schedules.
Nevertheless Argentina's Public Works Highways department warned drivers heading south through western Buenos Aires, La Pampa, Rio Negro Neuquen and Chubut to extreme precautions because of the limited visibility caused by the volcanic ash.
"Vehicles should circulate at a maximum speed of 80 kilometres on routes 5, 7, 8 and 33, and be aware to have all lights on", recommended the Highways department.
Puyehue first erupted last 4 June covering most of Patagonia with a thick carpet of volcanic cash and forcing to cancel hundreds of flights across the region: Argentina, Uruguay, south of Brazil, areas of Chile and in some cases as distant as Australia and New Zealand.