Falklands establishes agriculture and trade cooperation links with Uruguay
Monday, November 14th 2011 - 21:21 UTC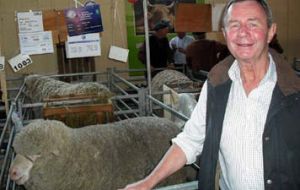 If proof was ever needed that adversity leads to a greater determination to succeed, it has been amply provided in a recent trip by the Falkland Islands Senior Agricultural Advisor, "Mac" McArthur, on a trade mission and cultural visit to Uruguay.
At a time when a mutual neighbor is doing its level best to foster distrust and economic isolation, the visit proved that at grass roots level there is still significant interest in the Falkland Islands and scope for mutual co-operation and economic development with its' South American neighbors.
The visit of the agriculture expert included a number of meetings with meat and wool traders and processors, beef and mutton processors and sheep and cattle producers with a number of proposals being made to foster and exchange links and trade in the agricultural sector.
Potential ideas for trade between the two countries included goods as varied as frozen embryos, electrical fencing and fertilizer.
The interest to look at furthering business relations with the Falklands was not confined to Uruguay however: requests have been made by several members of an international meat processing and trading group to meet with John Ferguson and Keith Alazia, general managers of FIMCO and Goose Green respectively, in Germany next year.
One of the principle outcomes of interest was the decision by Joaquin Martinicorena, Chairman of the Uruguayan Wool Secretariat and Pedro Otegui, Director of Lanas Trinidad S.A. to visit the Falkland Islands this summer along with a number of other business men and women who are keen to look at what the Falklands have to offer.
In return, the visit to Uruguay provided an opportunity to make the necessary contacts to arrange a visit by Falkland Island farmers to Chile and Uruguay in the forthcoming autumn. McArthur hopes that the opportunity to visit other wool and meat producers and processors will help to foster and establish long-term links with Uruguayan ns South American continent businesses.
During his visit to Uruguay, MacArthur had a number of interviews with television and the press including Agro Cuatro, El Pais and El Observador.
By Janet Roberston – SeAledPR – Stanley