Colombian president tells new FARC leader: turn in or risk death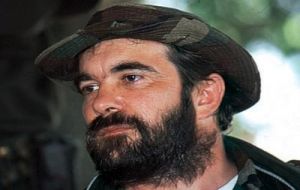 Colombian President Juan Manuel Santos warned the new FARC rebel chief 'Timochenko' to reconsider waging war or risk the same fate as his predecessor, who was shot dead by Special Forces this month.
The naming of hard-liner Timoleon Jimenez as leader of the drug-funded guerrilla group has dampened hopes the killing of the former commander, Alfonso Cano, could herald the beginning of the end of nearly five decades of war.
"I want to take this opportunity to tell the new number one of the FARC to reflect that politically they're defeated. More than 96, 97 % of the population rejects the FARC," Santos said in a speech late Wednesday night.
"Militarily they are increasingly weak. The way of the gun, the way of violence will not take them anywhere. He must think about this, or he will soon meet the fate of Alfonso Cano."
The Colombian military raided a jungle hide-out in the mountainous south of the country and killed Cano on Nov. 4.
The Santos government hailed it as the biggest blow yet to the rebels, and the death of the group's main ideologue raised hopes of peace in one of Latin America's fastest growing economies.
But the FARC vowed to fight on and named a hard-liner, widely known as Timochenko, as their new leader.
The 52-year-old former doctor was trained in Cuba and Russia, where he picked up his alias. Colombia's security services see him as more uncompromising than other commanders the Revolutionary Armed Forces of Colombia could have chosen.
While reeling from the loss of Cano, the FARC have made it clear they will not give up their war.
"Demobilizing is synonymous of inertia, cowardice, indignity, rendition and treason to the popular cause and the revolutionary ideals that we nurture and fight for to enable social transformations in the Colombian society" said FARC in a release last Sunday.
FARC is estimated to have between 8.000 and 9.000 soldiers paid with money from the drugs trade, extortion and kidnapping.