Top banker forecasts 'dollar run' in Argentina will dissolve: plenty of reserves
Thursday, November 17th 2011 - 07:04 UTC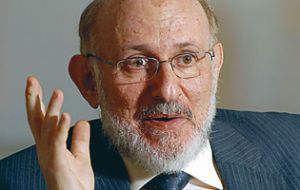 The former head of the Argentine Central Bank, Mario Blejer assured on Wednesday that in the exchange market "tension has been created which will only start to dissolve as and when we minimize the analysis of the subject."
According to Blejer, "a large part of the tension comes from the comments that have been made" over dollar trading.
In an attempt to stop capital flight, the government of President Cristina Fernandez has imposed very strict rules for trading foreign currency which in such a sensitive market as the Argentine triggered a counter effect: people almost panicked getting rid of their Pesos trying to buy US dollars or other currencies.
During an interview with the press, Blejer who has also been an advisor to the Bank of England recalled his time as head of the Central bank and stated "it was a difficult period, the reserves were one quarter of deposits in dollars. Today it's the other way around because there is no lack of dollars in the system."
Asked about the Euro situation, Blejer said "crisis has not unleashed but there is the potential and all the uncertainty is most uncomfortable"
However if the crisis expands and extends overall, the default will obviously be felt in those corporations with access to international credit "and exports are also going to suffer."
But faced with this situation: "Argentina is well prepared since its level of foreign exchange reserves is ample and good".
Meanwhile information from the Argentine Central bank showed that it had lost 97 million dollars on Wednesday and was about to see reserves plunge through the 46 billion dollars threshold.
In the last ten months the bank has lost 6 billion dollars and reserves now stand at 46.073 billion dollars while on Tuesday the number was 46.170 billion.
At the end of 2010 the Argentine central bank reserves totalled 52.145 billion dollars (6.072 more than currently) with the record on January 26 when they reached 52.654 billion.