Argentina sponsors a free movement of peoples' area in Magallanes and Tierra del Fuego
Saturday, November 19th 2011 - 06:09 UTC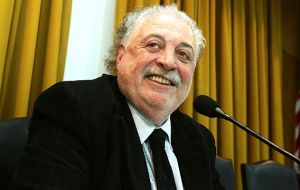 Argentina announced its full support to make the tip of the South American continent 'a free movement of peoples' area' that would include Chile's Magallanes region in the extreme south of the country and Tierra del Fuego, shared by the neighbouring countries.
"The purpose of the initiative, contemplated in bilateral agreements, is to improve transit and connectivity of the Tierra del Fuego island with the mainland, which by the way has been a historic demand from the peoples of the region", said Argentine ambassador in Chile Ginés Gonzalez Garcia during a meeting of the Austral Integration Committee held this week in Punta Arenas.
"The free movements of Argentines and Chileans in Tierra del Fuego and Magallanes will soon be a reality. That was one of the main points of the Maipú treaty and once it is implemented it will be the first in Latin America", added the Argentina ambassador.
Although there is no definitive date for the initiative "it will be sent as 'urgent matter' to both presidents for its quick implementation.
The agreement was worked out between the mayor of Punta Arenas, Arturo Storaker Molina; the representative from the Chilean region of Aysen, Pilar Cuevas and the governor of Argentine Tierra del Fuego, Fabiana Rios, together with Ambassador Gonzalez Garcia and his Chilean peer in Buenos Aires, Adolfo Zaldívar.
"This kind of meetings such as the current of the Austral Integration Committee play a key role in the integration policy of both countries" said ambassador Gonzalez Garcia who added that "all authorities involved in the initiative were present: from the federal government, regional officials and the Executive representatives which is us ambassador".
Another issue addressed at the meeting was the possibility of extending to 24 hours a day the border control posts during the holiday months, as well as increasing staff to cope with growing numbers of tourists.
"A further step once we have implemented the free movement of peoples is to create a Political Dialogue Commission between the different actors from both austral regions" to be aware of the region's needs, said the Argentine ambassador.
The two parties also addressed the permanent circulation authorization for the Almanza pass close to the Beagle Channel.
The service has significantly been increased with the recent inauguration of a ferry between Puerto Williams and Ushuaia, which "ensures a sustained, balanced development" through tourism cooperation and promotion of the area.
"This is one of those goals that has been consistently brought up by the two regions with the objective of developing trade, production and tourism in Cape Horn", said Ambassador Zaldivar.
Finally the mayor of Punta Arenas Storaker Molina said the Commission was working to create an action protocol for Austral Patagonia when faced with emergencies or natural catastrophes.