Uruguay's central bank confident about commodities' price prospects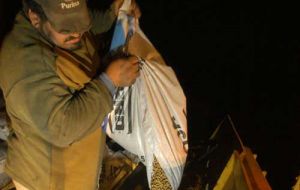 Uruguay's Central bank sees "few probabilities" of a strong deceleration in emerging economies or a 'significant' fall in commodities prices even when lately there has been a drop in the value of grains although still above their historic average.
In the third quarter Monetary Policy report, the Central bank states that so far "the effects on commodities' prices of international financial markets conditions are not clear nor on the rhythm of growth in emerging countries given their trade links with the developed world".
However in this scenario a slower economic expansion in China, Russia, India and Brazil can not be discarded even when prospects of a significant reduction in the prices of basic goods, mainly those exported by Uruguay does not seem to be the case.
This is particularly true for grains and oilseeds. The price of soybeans remains at an average of 420 dollars a ton even when it peaked at 520 dollars the ton. Wheat prices are depressed with export averaging 195/200 dollars the ton in the port of Nueva Palmira, after having reached 300 dollars in future sales when the harvesting of the crop.
Meat and dairy prices remain strong. In the latest Frontera auction prices for milk powder reached their highest since the beginning of July and beef remains steady in spite of weaker foreign demand because of insufficient prepared cattle for slaughtering.
Wool has slipped lately but with prices well above those a year ago. Australia's East market Prices indicator closed last week at 12.02 dollars per kilo when a few months ago, at midyear it had reached a historic record of 15 dollars. Currently wool is averaging two dollars above the same time a year ago