Buenos Aires gains increasing popularity as gay destination by the pink press
Wednesday, November 23rd 2011 - 20:29 UTC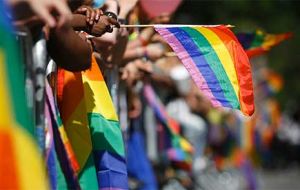 Argentina's capital Buenos Aires has gained increasing popularity as a gay destination, largely due to recent liberalization laws which have supported gay and lesbian lifestyles, reports Pink Choice.
Argentina has approved same sex civil unions were approved and later Congress passed a gay marriage law conferring full equal rights to same sex couples.
"So, with an open minded philosophy, and with some of the feel of a European city, Buenos Aires can now be added to the list of up and coming gay destinations for LGBT travelers looking to vacation further afield from previously tried and tested gay hotspots", points out Pink Choice.
The city with its broad-minded attitude doesn't have a gay neighborhood as such. Instead, gays and lesbians socialize in the many cafes and trendy restaurants that populate the city. The districts of Recoleta, Barrio Norte, Palermo and San Telmo have a particularly gay feel, and are some of the safest areas of any major city in South America.
The city offers a wide variety of gay and gay-friendly accommodation ranging from apartments, guesthouses as well as the 'straight-friendly' Axel Hotel.
Furthermore this summer a gay cruise is expected to call in Buenos Aires.