CFK off to Venezuela to meet with Chavez and Dilma Rousseff
Tuesday, November 29th 2011 - 06:14 UTC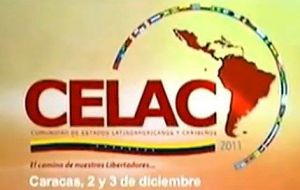 Argentine President Cristina Fernández will hold a bilateral meeting next Friday with her Brazilian counterpart Dilma Rousseff in the framework of the first Latin American and Caribbean States Community Summit (CELAC).
According to Foreign Ministry statements, the encounter will take place in Caracas, Venezuela, before the beginning of the Summit.
Cristina Fernández is travelling to Caracas on Tuesday, where she will also meet her Venezuelan counterpart Hugo Chávez. It will be the first encounter of the Head of State with the local president since he was diagnosed with cancer last July.
The Latin America and Caribbean Summit was going to be held on July 5 and 6, but it had to be postponed due to Chávez's illness. Finally, the meeting will take place on Friday and Saturday in Caracas, where the Latin American and Caribbean States Community (CELAC) will be officially announced.
CELAC was formally announced February 2010 and is made up of 33 countries from the Americas with the exception of the United States and Canada.