China becomes Peru's main trade partner and a leading investor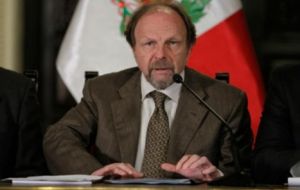 Peruvian Prime Minister Salomon Lerner said that China's direct investments in the country would increase between 30% and 40% in the next two years. China became this year Peru's main trade partner.
Current direct investments are estimated to be at around 750 million dollars, one of the highest figures in South America for a medium sized country, with much of it oil, mining and fishing industries, Lerner said.
That figure is expected to increase to about 1 to 1.2 billion dollars by 2013, predicted Lerner during the recent Fifth China – Latin America Business Summit, in Lima.
However Lerner said that Chinese corporations should be encouraged to invest in undertakings for the manufacture of added value products and not only in commodities.
The Peruvian PM also pointed out those financial institutions which facilitate business between Chinese and Peruvian entrepreneurs and contribute to promoted bilateral trade, are invited to operate in the country.
"We welcome the presence of Chinese banks in Peru", said PM Lerner.
Meanwhile the Peru-China Chamber of Commerce, Capechi, reported that bilateral trade in the first ten months of this year had already surpassed the 10 billion dollars recorded in 2010, and forecasted the final figure will be over 13 billion dollars.
According to Capechi president Eduardo McBride, trade increased by 32% compared to 2010, in part because of the Peru-China Free Trade Agreement, which came into effect in March 2010, as well as the increase in mineral prices.
"China is already Peru's biggest trading partner and at the same time, the country has established itself as a major recipient of Chinese investment in Latin America" McBride said in an interview with Lima's main daily, El Comercio.
McBride added that total Chinese investments in Peru (direct and indirect) would total close to 10 billion dollars over the next five years, mainly because "China plans to place 60% of its investments in Latin America by 2020".
He anticipated that the international financial crisis would not be of major concern to China, "since China would continue to be Peru's main trade partner as it continues to grow".
Finally McBride said the number of Peruvian exporters to China had increased by 30% and was currently at around 500.
"In 2010 we had 456 companies, we expect this number to grow this year, due to the Free Trade Agreement, and it would make it a total of 500 companies exporting to China," he said.
Peru's main exports are copper, gold, zinc, tin, iron ore, molybdenum; crude petroleum and petroleum products, natural gas; coffee, potatoes, asparagus and other vegetables, fruit, apparel and textiles, fishmeal. Total trade in 2010 reached almost 65 billion dollars, of which 35 billion exports.