Third quarter capital flight from Argentina reaches 8.433bn dollars, reports Central bank
Friday, December 2nd 2011 - 06:23 UTC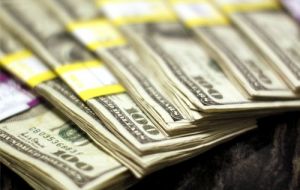 Capital flight from Argentina during the third quarter of this year totalled 8.443 billion dollars, almost four times during the same period a year ago, according to the latest report from the country's central bank.
Between January and September capital flight peaked 18.245bn dollars compared to 9.169bn in the same period a year before, according to the report on "Evolution of the only free foreign exchange market and exchange balance".
The Argentine central bank said that "the increase in net demand for free disposable foreign assets compared to the second quarter can be explained basically because of greater purchases of foreign currency bills, particularly from the niche of smaller depositors".
"This normally happens during pre-electoral periods" although in this case the rush on purchases of foreign exchange soared following the election which forced the government to tighten its hand and apply strict controls on the purchase of dollars.
According to the central bank net purchases of foreign currency by local residents totalled 7.039 million dollars in the third quarter, which was 2.250bn higher than in the previous quarter.
As to the structure of the demand for US currency, 45% of total demand was persons and companies with monthly acquisitions equivalent to 10.000 US dollars.
Likewise, 24% made operations between 10.000 and 50.000 dollars; 8% from 50.000 to 100.000; 17%, 100.000 to one million dollars and 6% purchased above the million dollars.
According to the official report, 96% of bills demanded were US dollars, followed by Euros, 3%.
"Regarding the free disposable funds, which are transferred to foreign accounts overseas belonging to residents in the quarter they totalled 1.484 million dollars, something similar to the volume and value of operations in the second quarter of 2010".