With summer rainfall dengue outbreak threatens fifty major Brazilian cities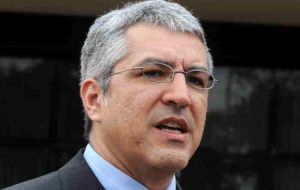 Some fifty Brazilian cities are exposed to serious outbreaks of dengue during the austral summer and another 236 are on 'alert' for the same reason, according to a paper presented Monday by Brazil's Health minister Alexandre Padhilla.
"We will need to work very hard in coming weeks because if nothing is done the tendency indicates we will have a major infection outbreak in the coming months", said Padhilla during a press round.
Padilha said that high temperatures and rains which are characteristic of the summer season that begins December 21 create a very favourable environment for the mosquito that carries the dengue infection.
The list of cities under risk situation includes Salvador, Recife, Belén, San Luis and Aracajú, all regional northeast capitals that during summer months receive thousands of visitors. The rest of the cities under "risk" or "alert" are in 16 of 27 states of the country, so the risk of dissemination of the disease if there are no adequate controls in the possible outbreak areas, is "extremely high", warned the minister.
At the same press conference the Vigilance Secretary from the Health ministry Jarbas Barbosa recalled that measures that must be adopted to combat the "aedes aegypti" mosquito are simple and are directly linked to public hygiene in those cities.
"There's not need to buy nothing at all nor have sophisticated technology. There are simple things that any family can implement such as preventing accumulation of garbage or rain fall", said Barbosa.
According to the latest report from Brazilian sanitary authorities, 310 people have died because of dengue in the first half of the year, which represents a 44% reduction compared to the same period a year ago.
Dengue is not limited to Brazil, but is also endemic in Paraguay, Bolivia and north of Argentina, all areas exposed to tropical climate and heavy summer rainfall. All these regions are exposed to summer epidemics of dengue.