Repsol-YPF extracts almost 10% of Ecuador's oil production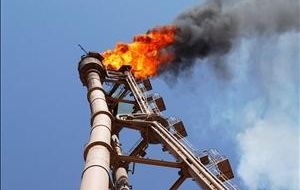 Repsol-YPF has raised its output in Ecuador to 45.000 bpd thanks to two new wells in the Amazon region, although the Spanish oil major still is forecasting a steady decline in production in the coming years, company executives said.
Repsol began the year at a level of 44,180 bpd and had been forecasting a drop in output to 40,738 bpd by year's end, but two new, highly successful wells have allowed it to reverse the downward trend, said the company's head of engineering, Jenny Garcia.
Those deposits are located in Block 16, the only oil production area in Yasuni National Park, one of the most bio-diverse places on the planet.
The two wells in the Amo zone yield a combined 6,000 bpd and Repsol currently is drilling a third well, an operation that drilling superintendent Javier Rupipamba says is costing the company roughly 100.000 dollars a day and will likely be completed in a month.
Repsol is the largest private oil company operating in Ecuador, a country where the total crude output amounts to roughly 500.000 bpd.
Besides Block 16, Repsol also is producing 4,000 bpd at the Tivacuno Block, in both cases under a service contract with state-owned oil company Petroecuador. Both of those Amazon areas are considered mature fields due to their age and because output is in decline as steadily increasing amounts of water – and lower quantities of oil – are extracted.
"The rate of decline is greater than (the gains made at) wells where we're increasing output. Not all the wells are like these good ones," Garcia said, referring to the two being developed in the Amo zone.
Under the terms of its new service contracts, negotiated last year with the Ecuadorian government, Repsol will continue drilling new wells until mid-2013 to mitigate the decline in output. The company plans to invest more than 280 million dollars through 2018 to drill 25 wells, which will add to its current total of 160 wells.