Colombia takes to the streets to demand "Freedom and NO more FARC"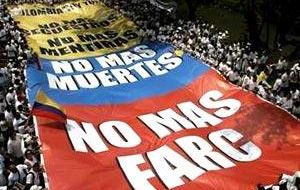 Thousands of Colombians on Tuesday joined demonstrations demanding that the country's oldest guerrilla group, the FARC, free all its hostages, ten days after rebels murdered four men who had been held for more than a decade.The FARC responded with a promise, posted on its webpage, to release hostages.
Protesters earlier marched in Bogotá, Cali, Medellin and several other cities across the Andean nation, chanting, "Freedom, freedom, freedom" and "No more FARC".
But there were others in the crowds who also called on the military not to put hostages' lives in danger with risky rescue attempts.
The protesters, wearing T-shirts with slogans demanding the release of rebel hostages and brandishing signs against the guerrilla group, began marching early in the day.
The demonstrations were organized by civic groups with the support of the government, which gave public employees time off to participate and had openly called on Colombians to join the protests.
"We want to live in a country at peace, a country without kidnappings or violence," President Juan Manuel Santos said in an address in the little town of Villeta in the central department of Cundinamarca.
"No one should stay at home, no one should stay in their offices, because we are all going to march with a single purpose, a purpose that unites us all: to say 'yes' to liberty and 'no' to kidnapping," he said at an event late Monday, according to a presidential statement.
Founded in 1964, the FARC is holding at least 11 police and soldiers hostages with the goal of trading them for several hundred imprisoned guerrillas. They also are holding an unknown number of civilians for ransom.
The marches were held 10 days after the assassination of four captives -- three policemen and a soldier -- who had been held hostage for more than 12 years. Among them was the FARC longest-held hostage, Jose Libio Martinez, who was kidnapped December 21, 1997.
The four were shot to death by their guards when their jungle camp came under attack, the authorities have said.