Humala reshuffles cabinet and names former military officer Prime Minister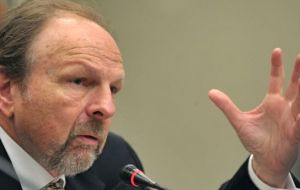 Peruvian President Ollanta Humala has picked Jorge Humberto Merino, who worked for the government agency that promotes foreign investment, to be his new mines and energy minister, local media reported on Sunday.
Peru has become a top global minerals exporter and relies on foreign investment in the mining and oil sectors to fuel its swift economic growth.
Merino, an engineer, will replace Carlos Herrera, who as the rest of the cabinet stepped down following on the resignation of Prime Minister Salomon Lerner, the first overhaul of the cabinet after only five months in office. The changing of prime ministers is relatively common in Peru – his predecessor Alan Garcia had five in five years.
The Peruvian government has struggled to calm protests by indigenous communities opposed to natural resource projects.
Humala was expected to replace 10 of his 19 ministers in a formal swearing-in ceremony but was set to reappoint Finance Minister Luis Miguel Castilla, who is well-regarded by Wall Street, and Trade Minister Jose Luis Silva, who has pushed an ambitious free-trade agenda for the Andean country.
Humala on Saturday picked Interior Minister Oscar Valdes, a former military to be prime minister to succeed Salomon Lerner, a businessman who forged ties with investors and urged dialogue to defuse social conflicts over proposed mining and oil projects that communities say would cause pollution or take scarce water supplies.
Valdes, 62 a former army officer as Interior minister has emphasized law and order and harsh crackdowns on protesters instead of mediation and dialogue to solve conflicts.
Lerner's decision to step down automatically triggered the resignation of the entire cabinet, according to Peruvian law. The ministers traditionally step down each December to allow the president some leeway to reshuffle his cabinet.
The departure of Lerner, a millionaire businessman before entering government, comes after Humala declared a state of emergency in Cajamarca department in the north in a bid to quell several days of labour unrest.
Workers in Cajamarca had gone on strike for more than 10 days in protest at what they fear will be adverse environmental impact from a planned 4.8 billion dollars gold and copper mining initiative.
Valdes was instrumental in the declaration of that state of emergency.
He also has given the impression of being a hands-on minister, travelling by helicopter to another scene of unrest in the south, where one person had been killed and three injured in clashes between protesters and police.
Humala brought together liberals and moderate leftists for his eclectic first cabinet, including leftist writer Rafael Roncagliolo as foreign minister and Lerner as his prime minister.