US prosecutors charge former Siemens executives for paying bribes in Argentina
Tuesday, December 13th 2011 - 23:39 UTC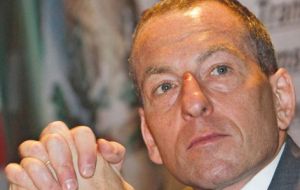 United States prosecutors charged eight former Siemens AG executives with paying 100 million dollars in bribes for more than a decade to Argentina officials to help win a one billion dollars contract to produce national identity cards.
The executives, who live in Germany, Switzerland and Argentina, have not yet been arrested to face the charges, US officials said.
The defendants include Uriel Sharef, who was a member of Siemens' managing board. He is the first former board member of a Fortune Global 50 company to be indicted under the US Foreign Corrupt Practices Act, officials said.
Between 1996 and 2007, the executives paid bribes intended for top Argentina officials, including two presidents and cabinet ministers, according to the criminal charges and a separate civil lawsuit brought by the top market regulator, the US Securities and Exchange Commission. The charges were filed in US District Court in Manhattan.
The defendants face criminal charges of conspiracy to violate the Foreign Corrupt Practices Act anti-fraud statute, as well as wire fraud and money laundering, crimes that carry a possible maximum prison term of 25 years.
In December 2008, Siemens and its subsidiary in Argentina pleaded guilty to criminal violations of the US Foreign Corrupt Practices Act and paid 449 million dollars in fines over the same national identity card contract.
The US government could not have brought Tuesday's charges against the individuals without the "exceptional and extraordinary" cooperation of the company, said Assistant Attorney General Lanny Breuer.
Breuer told reporters on a conference call that the executives hid the bribes in numerous ways, "using offshore shell companies, fake consulting contracts and large cash payments hand-carried across borders".
He declined to answer questions about whether the United States was seeking extradition of the executives. The case was filed in New York because the former executives took part in meetings in the United States and used US bank accounts, the government said.
It is not surprising that US authorities targeted individuals, and the case may have taken years to bring because the evidence was overseas, said James Tillen, a partner at law firm Miller & Chevalier and an expert on Foreign Corrupt Practices cases.
"It's certainly the DOJ and SEC's strategy to prosecute more individuals because it sends a stronger deterrent message than going after corporations," he said. "When you put someone in jail -- especially an executive -- it sends a much stronger message than fining a company."
The SEC, in its case against seven former executives, said they paid 100 million dollars in bribes in Argentina, about 31.3 million of which took place after March 12, 2001, when Siemens became subject to US securities laws.
Siemens won the contract to produce identity cards for every Argentine citizen in 1998, but the contract was suspended, and then cancelled, following a change in administrations.
"Siemens paid additional bribes in a failed effort to bring the contract back into force," the SEC complaint said. "Still later, after the company instituted an arbitration proceeding to recover its costs and expected profits from the cancelled contract, Siemens paid additional bribes to suppress evidence that it had originally obtained the contract through corruption."
SEC enforcement division chief Robert Khuzami told reporters on a co inference call that the action was the regulator's largest against individuals accused of bribing foreign officials.
"There were few lines that these executives were not willing to cross to win and maintain the contract" Khuzami said.