Argentine November inflation 1.44% and 22.63% in eleven months, say lawmakers
Wednesday, December 14th 2011 - 03:56 UTC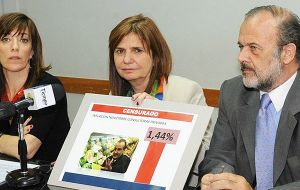 Argentine Lower House opposition lawmakers announced on Tuesday that inflation in November had reached 1.44%, accumulating so far this year, 22.63%. The so called 'Congressional index' is an average of the estimates from private consultants who face heavy fines if they make public their numbers.
The official President Cristina Fernandez administration index, Indec, is scheduled to be announced on Wednesday and is expected to range between 0.6 and 0.7%, in accordance with the below two digit target of the government.
Opposition lawmaker Ricardo Buryaile anticipated that when "we discuss the 2012 budget, we shall insist that it is a 'fake' budget since it is based on an annual inflation of 8.9%. This year's budget was based on 9.1% inflation and here we have that it is already almost 23%.
The Congressional index was started to help private consultants make public their estimates of inflation thus avoiding the threat of heavy fines as has happened with several of them.
In related news the Argentine Civil Rights Association, ADC, presented a demand arguing that imposing fines on private consultants for releasing their own inflation estimates is in violation of the right to freedom of expression.
"ADC presented an 'amicus curiae' before a special appeals administrative court in a case which questions the fine imposed by the Office of Domestic Trade to a private consultant for releasing inflation data considered inexact in violation of the Commerce Loyalty bill", said ADC in a communiqué.
ADC considers that in the case presented the right to freedom of expression relative to the release of public interest information is at stake.