Argentina/Brazil propose higher external tariffs for Mercosur
Tuesday, December 20th 2011 - 07:21 UTC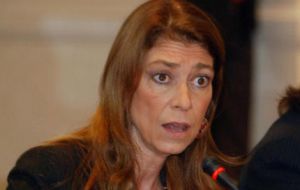 Argentina supported by Brazil has proposed increasing Mercosur Foreign External Tariff to better defend the group when country members are being flooded with cheap imports.
"Let's be friends and partners", said Argentine Foreign Affairs minister Hector Timerman during the first day of the Mercosur summit in Montevideo previous to the presidential meeting. "Let' not allow the foreign crisis to be a reason to move back our social and economic development".
Brazilian Economy minister Guido Mantega had anticipated that at the current Mercosur summit he would support adding 100 new products to a list of 100 products that can be charged a 35% import tariff.
"The tariff will protect industries in the region from cheaper imports" said Mantega at the Finance ministers and Central bankers meeting in Montevideo. "With this we can make a better defence at a moment when every country in the region is being flooded by foreign goods" Mantega told reporters.
However Argentine sources revealed that the tariffs' increase proposal did not have that immediate acceptance from Mercosur junior members, Uruguay and Paraguay.
Apparently the governments of Presidents Cristina Fernandez and Dilma Rousseff during a bilateral meeting a couple of weeks ago agreed to increase the external tariff to safeguard the home market from cheap Asian imports. The idea is that the average tariff currently at 14% be increased considerably.
However Uruguay and Paraguay are also claiming for market access to Argentina and Brazil, which to a significant degree remains weakened by the non automatic import licences system implemented by both countries to 'cool' imports.
However even with this back-of-the-scene mistrustful framework, Argentina's Industry Minister Debora Giorgi proposed a "more industrialized Mercosur" with the purpose of substituting the 460 billion dollars in manufacturing that the region imports annually, thus helping to strengthen local production complementation among country members.
"We must make Mercosur more industrial oriented to generate better and more jobs and development without asymmetries", said the Argentine minister.
Giorgi said that implementing added value to exports through innovation and design should be the production goal.