Chavez expected in Montevideo to announce Venezuela's Mercosur full membership
Tuesday, December 20th 2011 - 07:12 UTC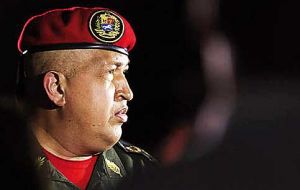 Venezuelan President Hugo Chávez said he will travel on Tuesday to the Mercosur summit in Uruguay in his first official foreign trip since undergoing cancer surgery in June and a further sign he is feeling stronger.
Speculation has remained rife about the condition of the 57-year-old socialist leader, who is aiming to win another six-year term at a presidential election next October.
The fact that he has decided at last moment to travel to Uruguay means that the hurdle impeding Venezuela to have access to full membership of Mercosur has been cleared, apparently acknowledging "full membership in the process of confirmation".
Chávez denied rumours he was more seriously ill than has been publicly admitted after he cancelled a trip to Argentina and Brazil earlier this month, blaming floods in Venezuela that left thousands homeless.
"I have to be off before 10pm," Chávez said during a lengthy televised cabinet meeting in Caracas on Monday night.
"They are having a Mercosur summit (in Montevideo), a very important one. I've now gone a year without attending these summits and since I feel well enough to go, I'm going to go."
Mercosur is the political and economic bloc that groups Argentina, Brazil, Paraguay and Uruguay as full members and Bolivia, Chile, Peru and Ecuador as associate members.
Chávez insists he is completely cured following four sessions of chemotherapy, although cancer experts say it is too soon to make such a call.
An overseas trip will be a politically useful show of vigour as his re-election campaign gets going in earnest.
Apart from visits to Cuba for medical treatment, the normally globe-trotting Chávez has not been abroad since a large tumour was removed from his pelvis six months ago.