Falklands' fishing companies regret Uruguay's ban, and losses for the port of Montevideo
Tuesday, December 20th 2011 - 00:56 UTC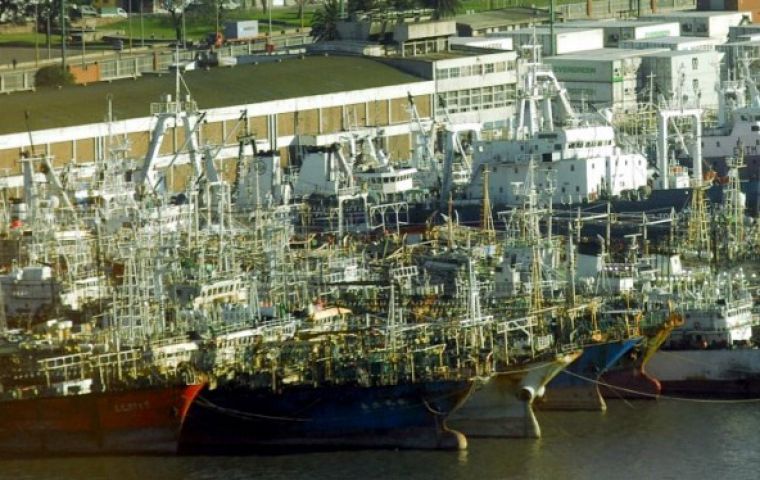 Falkland Islands fishing companies association, FIFCA expressed their "extreme disappointment" with Uruguay's decision not to allow Falklands' flagged vessels enter the port of Montevideo, which "will only serve to punish its own people".
In a brief release signed by Cheryl Roberts, FIFCA chair, the association also blasts Argentina's "complete disregard for maritime law and the right of innocent passage through territorial waters".
FIFCA, which represents the Falklands fishing industry, one of the Islands' economy pillars not only has been exposed to permanent Argentine armed vessels "high seas harassment" against trawlers and jiggers operating with Falklands' government licences, but now could see its scope of action limited by Uruguay's decision to prevent access to the port of Montevideo if they fly the Falklands flag.
However the measure is "not extensive to the red ensign".
"We are extremely disappointed with Uruguay's decision not to allow Falkland flagged vessels entry into Montevideo. In doing so Uruguay serves to punish its own people as without doubt, the effect on their economy due to this decision will be significant" reads the communiqué.
"The Falkland Islands have been part of the red ensign group since 1861 and since 2003 has adopted parts I and II of the UK merchant shipping Act 1995".
In its last paragraph the communiqué refers to the weekend incident involving a Spanish flagged fishing vessel leaving the port of Montevideo for the South Atlantic and which under threat of boarding form the Argentine Coast Guard was forced to sail through Uruguayan waters to reach the high seas.
"Furthermore with regard to the incident over the weekend involving the Spanish flagged fishing vessel Villa Nores, which was hailed with intention to board by the Argentine Coast Guard, we feel this demonstrates Argentina's complete disregard for the right under 'United Nations Convention of the Law of the Seas' maritime law, for the right of innocent passage through territorial waters".
The Spanish ambassador in Montevideo Aurora Díaz-Rato criticized the Argentine authorities' action as an 'error' and said Argentina has no right to impede the free navigation of Spanish vessels in international waters.
The announcement by Uruguayan president Jose Mujica regarding Falklands' flagged vessels came as a bombshell for the companies linked to shipping and fisheries industries support activities in the port of Montevideo.
"The president's decision has caused great concern in the sector since it involves economic activity and jobs in the port of Montevideo" said Mario Baubeta president of the Navigation Centre who estimated that foreign flagged fishing vessels operating from Montevideo represent an annual turnover of 300 million dollars.
"These announcements only help to scare away the fishing vessels that use Montevideo as an operations hub for the South Atlantic and Antarctica. It is obvious that if vessels are banned from operating in Montevideo and others are exposed to continuous harassment, they will just move to Brazil with all the losses for Uruguay", added Baubeta.