Chavez claims five Paraguayan lawmakers are impeding Venezuelan access to Mercosur
Wednesday, December 21st 2011 - 05:49 UTC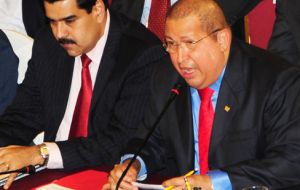 President Hugo Chavez claimed that a small group of Paraguayan lawmakers, manipulated by a "powerful black hand", are impeding the long-delayed access of Venezuela as full member of Mercosur.
"These people who oppose the incorporation of Venezuela to Mercosur are approximately five…and I don't know if they are aware of the damage they are inflicting on Venezuela and the same Paraguayan people", said Chavez on Tuesday while addressing the Mercosur summit in Montevideo.
"Five persons who don't want us to join, but I guess there must be 'a black hand' behind them…" added Chavez who presented the request to join Mercosur for the first time in 2006, during another regional summit.
Nevertheless "I'm sure we have the full support from the Paraguayan people", said the Venezuelan leader who added "we must double efforts and speed the incorporation".
Besides, "Venezuela's membership will most benefit small economies such as those of Paraguay and Uruguay. We have been preparing for that moment; we have a huge infrastructure program rolling that will help the distribution of Paraguayan and Uruguayan goods in the Venezuelan market"
"We hope Paraguay finally approves it. Maybe they turn around and vote for us, imagine these gentlemen supporting us, but in the meantime we should take photos of them and have them stamped all over Paraguay so the good citizens are aware whom they are".
Finally Chavez talked in support of a quick approval of the Bank of the South, a financial development institution created to promote infrastructure and to keep funds in the region, "instead of having them loaned them back to us with our deposits in their banks".
It's time our international reserves are deposited in the Bank of the South so that "we can stop financing the rich north".
"I would like to discuss the issue with those who call my idea madness. Madness is what we are doing now: having our international reserves in the North, we are financing the North: that is a centuries' old madness", underlined Chavez.