Barring Falklands' flagged vessels in "more symbolic than anything else", says Uruguay port authority
Friday, December 23rd 2011 - 18:27 UTC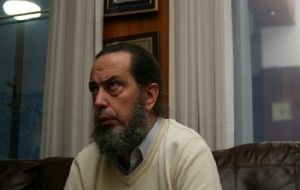 Mercosur latest decision to bar all Falkland Islands flagged vessels from entering its ports is "more symbolic" than anything else because a change of flag is enough, according to Uruguay's Ports Authority, ANP President Alberto Díaz.
"The measure ceases to have effect with a change of flag, it's more symbolic than anything else", said Diaz on Friday interviewed by a Montevideo radio. Changing to the English Red Ensign is enough.
The decision sponsored by Uruguay during the last Mercosur summit in Montevideo, and supported by all members, (in line with what was approved by the Union of South American Nations, Unasur in November 2010 in Guyana), has caused a serious diplomatic rift for Uruguay with the United Kingdom that openly expressed 'concern and disappointment'.
Diaz also revealed that this year an estimated 380 all-flag fishing vessels have called in Montevideo, including 20 from the Falkland Islands, which represented for ANP, approximately 200.000 dollars.
"On average each fishing vessel that calls in Montevideo represents 6.000 dollars for ANP", said Diaz referring to the full number of fishing vessels.
However Mario Baubeta president of Uruguay's Navigation Centre, an organization dating back to 1916 and which brings together all maritime agents and other port service companies argues that the turnover from the almost 400 fishing vessels calling in the port of Montevideo represent anywhere from 250 to 300 million dollars.
This includes also all the dry docking, maintenance and repairs done in the facilities at the port of Montevideo.
"The turnover is anywhere from 250 to 300 million dollars annually, we're talking of almost 400 vessels and 150.000 ton of fish landed in Montevideo", said Baubeta who denied earlier statements from ANP saying the figure was closer to 14 million dollars.
However Baubeta agreed with Uruguayan president Jose Mujica who stated that "the Malvinas flag as such is not recognized no where in the world", but Uruguay is open and welcomes all those flags represented in the United Nations".
"That is correct. If British pride accepts taking down the Falklands' flag and flying the English flag, nothing, absolutely noting changes, because what rules International Law is the nationality of the vessel, and that is the nationality of the State. The Islas Malvinas are not a state, they don't exist as such in the United Nations, who rules is the United Kingdom", underlined Baubeta.