CFK surgery is "relatively simple" and once recovered allows to fulfil a normal life
Wednesday, December 28th 2011 - 22:38 UTC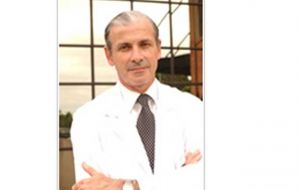 Surgery to extract the thyroid carcinoma to which Argentine President Cristina Fernandez will be submitted next week is relatively simple and she will be able to fully recover and fulfil a normal life, according to several Buenos Aires specialists.
Marcos Abalovich, president of the Thyroid Latinamerican Society said the operation "will last two to three hours, mainly because of the proximity of organs" with the thyroid, one of glands located in the front collar area.
The Argentine president will undergo surgery next 4 January in a private hospital by Dr Pedro Saco, one of country's leading specialists in this kind of surgery.
"It is a relatively simple procedure but it must be done with great patience. According to details made public, it would be exceptional if complications appear", said Abalovich.
The official government report said that the tumour detected is circumscribed to the thyroid and has no "metastasis", which means it has not spread to other organs.
"These carcinomas don't offer many symptoms when small. It does not seem that in the case of the president she will have swallowing or respiratory problems", added Abalovich.
However Cristina Fernandez will have to take radioactive iodine pills "to destroy any cancerous cell that might have remained" following surgery.
Cristina will also be able to lead a completely normal life "but under medical control".
Ricardo Kirchuk from Buenos Aires Oncology Institute Pedro Roffo agreed with Abalovich saying that this kind of surgery "does not involve many complications" and is "absolutely manageable by modern medicine".
The thyroid gland controls how quickly the body uses energy, makes proteins, and controls how sensitive the body is to other hormones. It participates in these processes by producing thyroid hormones, the principal ones being triiodothyronine (T3) and thyroxine (T4). These hormones regulate the rate of metabolism and affect the growth and rate of function of many other systems in the body. T3 and T4 are synthesized from both iodine and tyrosine. The thyroid also produces calcitonin, which plays a role in calcium homeostasis.