Cristina Fernandez promulgates tough laws to control the media and social protest
Wednesday, December 28th 2011 - 22:45 UTC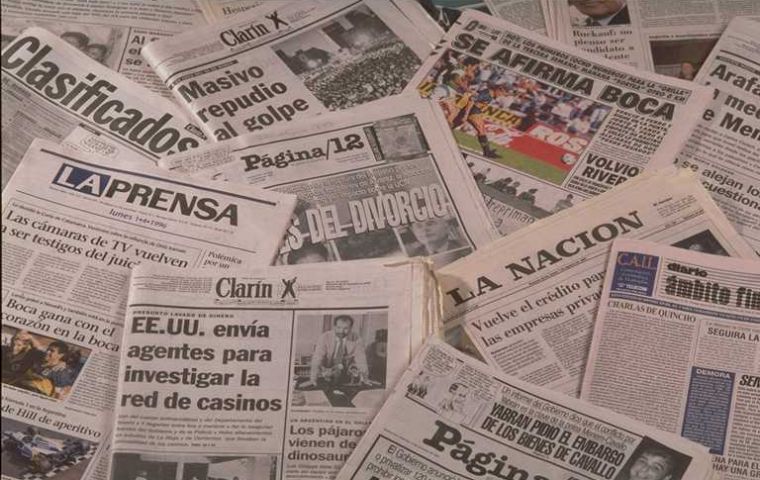 Argentine president Cristina Fernandez has promulgated several bills, some of them considered controversial, sanctioned last week by Congress --where the ruling coalition has a comfortable working majority-- and which were published Wednesday in the Official Gazette.
The bills that have sparked most reaction refer to the media and control of newsprint, and the possible 'intimidation' of freedom of expression and freedom of the press as well as criminalization of social protest through several articles of a loosely defined wide ranging "anti terrorism" legislation which has human rights groups on the edge.
Other bills include the 2012 budget and the rural labourer statute, very much criticized by the workers' union, who feel closer to landowners than to the government.
The media bill declares of national interest the manufacturing, trade and distribution of newsprint from the only manufacturing plant in the country Papel Prensa. The bill has been strongly rejected by the Argentine Association of Newspaper Entities (ADEOA) and has been condemned by international media organizations recalling that controlling distribution of newsprint has proved to be the most effective system used in authoritarian and totalitarian regimes of forcing self-censorship.
Cristina Fernandez has been accused by international media organizations of having chosen the path of Venezuela's Hugo Chavez to tighten her grip on information.
Papel Prensa was founded in 1972 with main shareholders Clarin and La Nacion. Argentina's two main newspapers took control of the company during the military dictatorship (1976/1983) and the whole operation is now under judicial investigation.
The Kirchner administrations first allied with the so called 'big press' finally ended in direct conflict and since then have been trying to cut their influence and dismantle their assets. With this as a goal and taking advantage of a small government stake in Papel Prensa, the Argentine government sent a bill to Congress which "guarantees access to newsprint at the same price for all newspapers in the country"
However ADEPA argues that this "represents a serious risk for freedom of expression" since what is needed is to contain "excesses of government and that newsprint ends up being used, as with government publicity, in a discriminatory way, rewarding the friendly media and punishing those who criticize".
The anti-terrorism law has also been widely criticized since it allows judges to decide what action entail a terrorist purpose and which doesn't, generating the conditions to criminalize social protests and even reporting in the media that could be considered as causing "public opinion alarm or commotion".