Riots and institutional crisis in Cristina Fernandez Santa Cruz province
Friday, December 30th 2011 - 06:07 UTC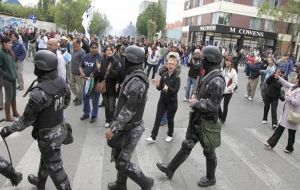 Argentine President Cristina Fernández had to postpone on Thursday plans to fly to Santa Cruz where she is planning to spend New Year's Eve with her son and daughter, following an institutional crisis and street rioting that left at least 23 injured and the resignation of several top posts in the provincial administration.
The Patagonian province of Santa Cruz has been the political springboard for Cristina Fernandez and her late husband and former president Nestor Kirchner. It is one of the least populated Argentine provinces but one of the richest with ample resources from mining, hydrocarbons and fisheries licensing plus high income tourism and cattle breeding.
And since the Kirchners are in Government House in Buenos Aires, Santa Cruz has enjoyed one of the fattest cheques (per capita) from federal sharing of funds plus ample public works projects.
However all this seems not to be enough and Santa Cruz's governor Daniel Peralta's plans for a budget deficit reduction generated serious incidents causing the resignation of the Secretary of Government and the removal of the Kirchnerite youth organization La Campora from the provincial administration. La Campora is managed by Kirchner's son, Maximo.
Due to the incidents, the debate, which was scheduled to take place on the floor of the province's Legislature Thursday afternoon, had to be suspended, and the province's police chief resigned from his post after the clashes left 15 protesters and eight policemen injured, two of the officers in serious condition. The police intervened when rioters tried to break into the provincial Legislature in order to protest the fiscal reduction.
The unionists protesting outside the building began hurling stones at the doors and windows of the provincial Lower House forcing the police to appeal to tear gas and rubber bullets. The police had to protect and escort lawmakers from the Legislature in their vans.
This incident prompted at least a dozen of La Cámpora officials to tender their resignation from the Santa Cruz government to the Peralta administration.
Although the ruling Kirchnerite group has 22 out of 24 seats in the provincial Lower House, the eight belonging to La Campora refuse to support cutting pensions, social benefits and suspending salary increases, and did not approve Governor Peralata's forcing the adjournment of the session.
Some of the most controversial measures include increasing the retirement age from 54 to 65 for men and from 50 to 60 for women, plus elevating contributions to social security between 3% and 17% for pensioners and from 2% to 5% for the working population.