Brazil's Embraer sells 29 Super Tucano aircraft to the US Air Force
Monday, January 2nd 2012 - 06:36 UTC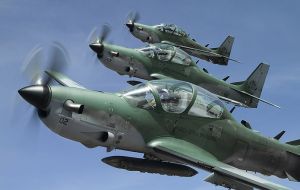 Brazilian plane-maker Embraer will sell its A-29 Super Tucano aircraft to the US Air Force, in a firm-fixed price delivery order contract worth 355 million dollars, the company said in a statement.
Twenty aircraft will be provided, as well as ground training devices to support pilot training and all maintenance and supply requirements for the aircraft and associated support equipment.
"We are committed to pursuing our US investment strategy and to delivering the A-29 Super Tucano on schedule and within the budget," Luiz Carlos Aguiar, CEO of Embraer Defense and Security, said in the statement.
The aircraft will be supplied in partnership with US-based Sierra Nevada Corporation (SNC) at Jacksonville International Airport as the prime contractor, and will be used to conduct advanced flight training, aerial reconnaissance and light air support operations.
The A-29 Super Tucano was built for counterinsurgency missions and is currently used by five air forces and on order by others, said Embraer
There are more than 150 A-29 Super Tucanos in use now, the companies say. The have logged more than 130.000 flight hours, including more than 18.000 combat hours.
"We believe in the goals of the Light Air Support mission and are proud to be able to support the United States in its partner-building efforts in Afghanistan and elsewhere around the world" Taco Gilbert, Sierra Nevada's vice president of business development, said in a news release.
"This is a tremendous opportunity for Embraer, the citizens of Florida and the thousands of employees who will be part of our supply chain," Luiz Carlos Aguiar, president of Embraer Defense and Security, said in a news release. "We look forward to working with SNC and the US Air Force to provide these aircraft."