US is ending three-decade subsidies on corn ethanol
Wednesday, January 4th 2012 - 06:06 UTC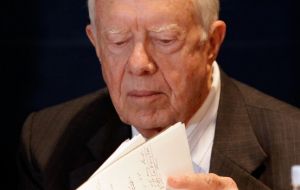 The US government is ending a three-decade-old policy of subsidizing corn ethanol, but it appears that the loss of the 6 billion dollars annual benefit will have little impact on farmers.
The tax credit, now 46 cents per gallon, for ethanol made from corn dates from 1979, when President Jimmy Carter's administration was pushing development of alternative fuels to lessen US dependence on oil from the Middle East.
Though widely criticized, the subsidies came to be seen as politically untouchable, perhaps in part because the quadrennial campaigns for the Republican and Democratic presidential nominations begin in Iowa, home to numerous corn farmers.
Environmentalists have been especially hostile to ethanol subsidies.
"Corn ethanol is extremely dirty," Michal Rosenoer, bio fuels manager for Friends of the Earth, said this week in a statement. "It leads to more climate pollution than conventional gasoline, and it causes deforestation as well as agricultural runoff that pollute our water."
Congress has mandated that the United States produce 36 billion gallons (136 billion litres) of renewable fuel by 2022, of which nearly half must be corn-based ethanol.
Many states now require gasoline to contain up to 10% ethanol and analysts see that requirement as sufficient to enable producers to get by without federal subsidies.