Dakar rally suspended because Andes snow storms prevent the crossing to Chile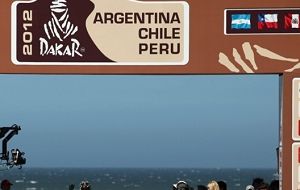 The sixth stage of the Rally Dakar 2012, the first one in Chilean territory, has been suspended due to intense snow storms that do not allow the trespassing of the vehicles from Argentina.
The authorities of the traditional rally competition which on this edition includes Argentina, Chile and Peru reported the situation after the climate conditions got worse in the frontier path between both countries during the night.
The situation affects especially the San Francisco path, located at 4,700 metres high and which the drivers had to cross to complete the Dakar tram between Fiambalá in Argentina to Copiapó in Chile.
"Taking into account the meteorological conditions, the Chilean authorities had to close the San Francisco Path," organizers told the press.
The vehicles will be taken to Chile in a convoy, sources added.