Falklands plans to export 30.000 lambs this season from upgraded abattoir
Friday, January 13th 2012 - 14:48 UTC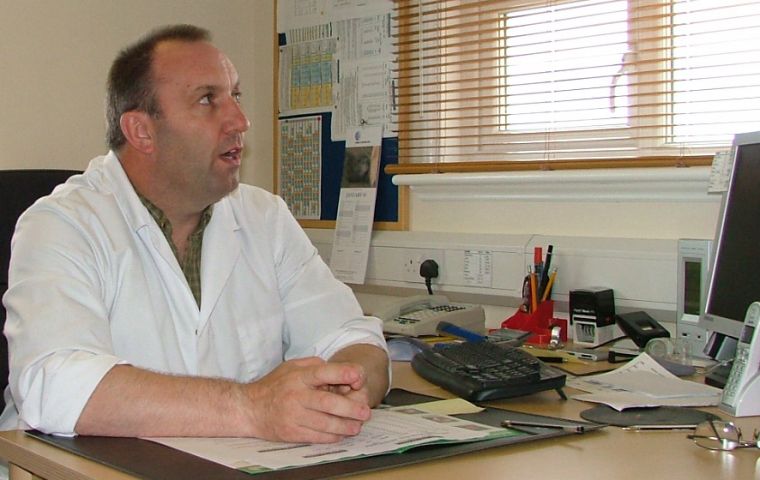 The Falkland Islands Meat Company (FIMCo) may export up to 30,000 lambs in the coming season compared to 26,000 last year in an abattoir successfully upgraded by local companies, reports the Penguin News in this week's edition.
Manager John Ferguson said major works undertaken by Stewart Construction and Energise will contribute to cost-savings for the company.
Last season the export sales of meat and skins allowed the company to make a small profit for the first time, and as a result "no subsidy has been requested for this financial year," said Mr Ferguson.
Speaking of the works, Mr Ferguson said, "These are the remaining works of the planned upgrade and we combined them to get it all completed, so we would have the operational cost-savings, efficiencies and of course ability to process skins and red offals properly for export.
"It was a major piece of work, again involving Ian Stewart Construction and Energise FI plus Approved Design Ltd from UK for the new slaughter line and Reid Steel for the buildings."
The work comprises two additional carcase chillers (extra capacity for 650+ sheep/lamb carcases) covered livestock yards extension, to hold approx 1,000- 1,200 sheep/lamb and 20+ cattle in total and an upgrade sheep slaughter line from manual to a more modern 'moving' line to improve efficiencies and increase productivity.
Additional covered space for holding palletised sheepskins and another to protect refrigeration plant has also been created plus an improved livestock unloading and turning area, along with upgrade drainage from plant to beach.
He said, "At present, we are several weeks behind overall project completion, but with many aspects done and operational, costs are expected to remain within budget.
"The completion of the upgrade will put Sand Bay into the type of plant and facilities that should have been built initially for exporting the full range of products required to make the meat industry viable from the Falkland Islands.
"Much appreciation is to be given to FIG and the FIMCo Board for their support during the past few years to achieve this. It also proves that local construction companies can successfully deliver these types of works."
Mr Ferguson said Falklands lamb can be sold successfully because it is "lean, with excellent eating qualities," although currently "there is a lack of confidence in what the market prices will be in say 3-6 months when the product reaches the end user."
As a result some prices are below last years levels. The sixteen week export season began this week and an impressive 58 strong team will deal with both the export and local market. Lamb will be sold to UK, Germany, Denmark, France, Sweden, Spain, Egypt and Hong Kong.
Manager of the abattoir John Ferguson told Penguin News that around 42 farms plan to provide the lambs while 60 farms are likely to provide both sheep and lambs.