Bolivia ratifies complete support for Argentina's Malvinas sovereignty claim
Saturday, January 14th 2012 - 06:16 UTC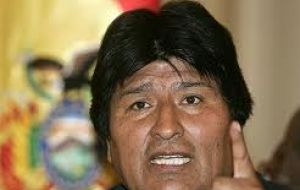 Bolivian president Evo Morales said the Malvinas Islands are Argentine and gave full support to his peer Cristina Fernandez siding with Mercosur in the dispute with the UK over the South Atlantic Islands sovereignty and the latest decision to bar all Falklands flagged vessels from regional ports.
"The Malvinas are Argentine. That is why we support the decision from the Argentine people, the Argentine government and from their president" said Morales in a release from the Palacio Quemado, seat of the Executive branch.
Morales made the statement during a political rally with a union of women peasants in Cochabamaba, to the east of the capital La Paz.
The Bolivian president described the latest statement from Foreign Secretary William Hague as "blackmail" who called on Mercosur countries not to support Argentina's efforts to bar vessels flying the Falklands' flag from South American ports.
"We support, we are associates with Argentina in the defence of the dignity, sovereignty of South America, Argetnin and the struggle to recover the Malvinas for Argentina", added the Bolivian leader, the first indigenous to become elected president.
Last December during the Mercosur summit in Montevideo, full members and associate members supported a resolution barring all vessels with Falklands' flag from docking in regional ports in support of Argentina's claim over the Falklands and other South Atlantic Islands.