Volcanic ashes again isolate Argentine ski and summer resort causing massive losses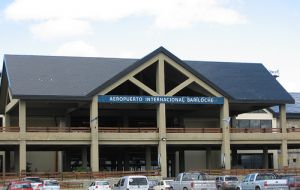 The presence of a cloud of ash caused by a volcano in Chile has again closed an airport in neighbouring Argentina just days after it had re-opened anticipating massive losses for the tourism and the resort's finances.
The closure of the airport in San Carlos de Bariloche on Monday comes three days after flights had resumed following a seven-month suspension due to the ash.
The re-opening had been welcomed by local media with triumphant headlines. Bariloche and nearby towns have seen visitor numbers drop sharply since the Puyehue volcano erupted in June.
At the time of the Puyehue volcano eruption, airports as far away as in Melbourne, Australia, were forced to close. Airlines cancelled all flights flying in and out of Bariloche, in Patagonia, on Monday.
Commercial flights to Bariloche had resumed on Friday for the first time since the Puyehue volcano erupted on 5 June 2011. Local newspaper El Cordillerano headlined the story with one word: "Hallelujah".
Bariloche, and nearby Villa la Angostura and San Martin de los Andes are popular destinations for people wanting to ski in winter, and go trekking and fishing in summer. But the lack of flights has badly hit the tourism industry in the area.
Aerolineas Argentina decided to divert flights to Esquel in the province of Chubut while Lan Chile to the city of Neuquen.
Aerolineas and LAN said that flights schedules would depend on the density of ash from the volcano, and whether the wind would blow it towards Bariloche. The airlines will evaluate the climate situation on Tuesday before deciding on services.
According to a report from the College of Chartered Accountants from the Andean zone, Bariloche losses to tourism and business since the eruption of the Chilean volcano Puyehue can be estimated in over 275 million dollars.